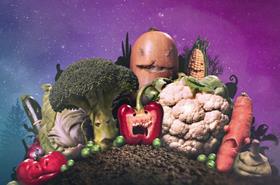 The Eat Them To Defeat Them advertising campaign, aimed at improving children's health in the UK by boosting vegetable consumption, has had a lasting impact on consumer behaviour, according to ITV and Veg Power, and generated £63m in sales of vegetables across the country over 18 months.
The figure, based on Econometrics analysis of retail sales data from the campaign's launch in February 2019 until July 2020, is equivalent to 517m children's vegetable portions.
According to data donated by IRI Worldwide, the campaign had a 2-2.5 per cent positive impact on vegetable sales while it was on air, and a sustained impact in the months thereafter.
The 2020 campaign returned to TV screens in February as a media alliance between ITV, Channel 4 and Sky, reaching 46m people, including 87 per cent of households with children aged 4-9. The campaign's activation across schools reportedly saw participation from 1,500 schools and 425,000 children.
The campaign was supported by all UK supermarkets and was announced as the 'Best Health Cause Campaign (Collaboration)' at the PR Week Purpose Awards.
The campaign is set to return for a third year starting next February. "It is part of ITV's wider Better Health priorities to encourage 10m people to take action in supporting their physical or mental health by 2023 and supports Veg Power's mission to get kids across the UK to eat more veg," a press release from the campaign stated. "It was developed by advertising agency adam&eveDDB who work on the campaign pro bono. ITV, Channel 4 and Sky support the campaign as part of a £10m commitment to encouraging children to eat better and move more."
Clare Phillips, director of social purpose at ITV, commented: "Every parent knows what it's like trying to encourage children to eat something they don't want to eat. It's no wonder only one in five children has the recommended daily amount of vegetables. The magic of this initiative is coming at the issue from a child's point of view and making eating vegetables genuinely fun."
"It has never been more important for us all to eat our vegetables," said Dan Parker, chief executive of Veg Power. "Eat Them To Defeat Them makes veggies fun, it engages kids through the buzz of a brilliant TV campaign supported by activation in stores, schools and homes across the country and amplified by a host of celebrities and supporters on social media. These hard retail sales data confirm our extensive survey data - kids are eating more veg thanks to this campaign."