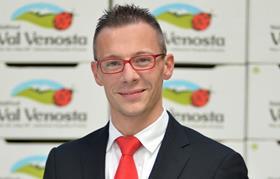 Italian marketer VI.P has reported good demand for apples in Europe since the start of the year, predicting a positive conclusion to this year's campaign as markets switch to Southern Hemisphere product.
Fabio Zanesco, the company's commercial manager, said the season has progressed largely in line with initial expectations, describing demand following the Christmas break as lively.
'We are now entering the main period of product decumulation, between February and May 2014,' he explained. 'We are optimistic about how the season is set to continue. Prices are at good level for all of the main varieties and so far demand both on the internal market and in our main export destinations is satisfactory.'
Zanesco revealed that sales of the later variety Stark, now entering peak availability, had seen a slight slowdown, but he said the group was confident the quality of the product would allow it to sustain good returns during the remainder of the season.
Once again, Italy has taken the lion's share of VI.P's apple crop – around 55 per cent of the total volume sold so far in 2013/14 – but sales to export markets – the main ones being Germany, Scandinavia, Spain, North Africa and the Middle East – currently account for around 40 per cent of total annual revenue.
In the Southern Hemisphere, meanwhile, South Africa is still counting the cost of devastating hailstorms in its key apple-producing region Ceres, with sources indicating the country may have lost around 12m cartons of its national crop this time around.
In New Zealand, a biennial bearing 'off' year means topfruit export volumes are likely to fall in 2014 from the 16.9m cartons sold last year.
And in Chile, forecasts suggest that overall production will be similar to last year, although recent cold weather is expected to mean smaller average sizing and a higher incidence of cosmetic damage on some varieties, potentially limiting the amount of export-grade fruit available.