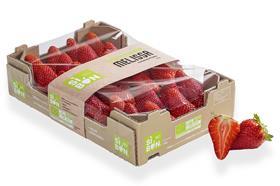 Increased availability of European strawberries during the winter months has made it possible for consumers to eat more healthily outside of what they tend to regard as the traditional season.
That's according to Italian association Gruppo Vi.Va, which this month has embarked on a round of marketing activity to promote sales of winter strawberries in Italy, the Netherlands and Romania.
The campaign forms part of a project called Fruit & Veg Natural Health! Part-funded by the European Union, it aims to highlight the benefits of a diet that includes healthy and sustainably produced fresh fruit and vegetables.
Pietro Ciardiello is director of Coop Sole, one of the supporting members of the project and a key supplier of strawberries thorughout the year.
'We are about to reach full production", declares Pietro Ciardiello, director of association member Coop Sole. "This is expected in February, which is slightly delayed compared with last year due to the unfavourable weather conditions that delayed the plants at the end of the summer."
According to Ciardello, varieties have been carefully selected and produced to ensure quality remains high at this time of year.
"We will have an increasing supply of organic and zero-residue strawberries, and we are implementing, with excellent results, a pre-planting solarisation technique which avoids the use of synthetic chemicals and increases the presence of organic matter in the soil."
Overall, Coop Sole expects to expand its strawberry production by 6 per cent, he says. And by doing this in winter, there are likely to be environmental benefits.
"Thanks to varietal and technological innovation, winter production of strawberries allows water savings in the plants and reaches optimal quality levels," he explains.
"Contrary to what people think, the strawberry is a perennial plant with winter growth. To bear fruit, it needs a certain number of days at a low temperature, and scientific research has given us the opportunity to grow it throughout the year successfully and get consumers interested."
Southern expansion
In 2021, the amount of strawberries grown in Italy increased notably, according to figures from CSO Italy.
The main expansion occurred in Basilicata, more precisely in the Metapontino area (+20 per cent), as well as in Campania (+6 per cent) between Casertano and Piana del Sele, and in Sicily (+4 per cent).
Southern Italy represents around two-thirds of Italy's total strawberry production, and is able to produce the fruit in winter thanks to its warmer climate.
According to Freshfel Europe, about 1.2m tonnes of strawberries are consumed in Europe each year, with a market penetration of 93 per cent and per-capita consumption of 1.6kg.
Gruppo Vi.Va is a partnership consortium that involves several separate fresh produce suppliers: Almaverde Bio, Apofruit, CodmaOp, Coop Sole La Mongolfiera, Ortoromi, PempaCorer, Solarelli, and OP Terre di Bari.