Comment: Following a turbulent year defined by climate change, rampant inflation and political uncertainty, Britain's fresh produce industry is at a crossroads and looks set for further upheaval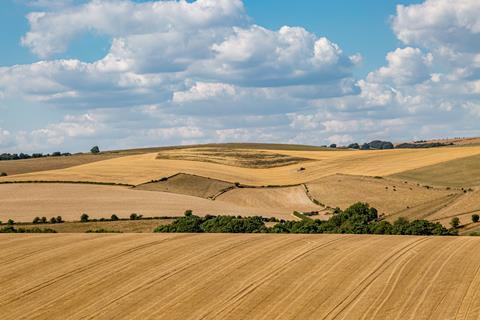 It is common at this time of year to look back what has happened, and also to start peering forward at what might happen in the next 12 months. It has certainly been a year full of incident, and to our mind, 2023 will be no different. We are in a situation where change has to be considered "normal", and "no change" abnormal.
The past year will be remembered for a number of things, not least the fact it featured one of the hottest summers on record. Unfortunately, we found that in many cases the UK is not set up to farm and produce fruits and vegetables effectively at such high temperatures.
Climate change can't be ignored
For many years there has been talk of the impact of climate change, both in Britain and internationally, and this summer really bought home the message that ignoring the problem is no longer an option for the UK fresh produce industry. Climate change is here to stay and will be a major factor in the production of crops going forward.
At the end of the year, we had COP27 in Egypt. It would be nice to think progress has been made on a global scale in mitigating the impact of climate change, but it seems COP might flatter to deceive again in this respect. Maybe 2023 will be the breakthrough year on this? But the issue of sustainability will not be one that goes away.
Huge cost inflation
Producers in the UK have also seen unprecedented cost inflation across the board in areas such as fertilisers, packaging, other agri-chemicals, seeds, transport, distribution, and energy. This has all been well documented, not least by Promar's recent report on behalf of the NFU.
Leading growers have all commented that unless they can secure better prices from retail customers, they will be faced with several options: switch to other crops such as wheat or oil seed rape; cut production to control costs by as much as 20%; or in extreme cases, stop production altogether. This doesn't appear to be an idle threat since production has already been cut in some cases.
Importing from the Continent to make up the balance has always been the answer to a crop shortfall in the UK, but now producers in Spain, the Netherlands and Ireland are all facing a similar situation. They are not automatically able to fill the gap. And this is not a short-term problem, but rather a structural shift in supply to the UK – and it is not helped by ongoing trade friction with the EU.
Shifting policy drivers
The UK has also seen unprecedented political change in 2022 – with three Prime Ministers taking the reins in only a few months, leading to incoherent agricultural policy. This has also been bad for macro-economic stability, which is so important for stimulating investment in horticultural infrastructure such as packhouse facilities, distribution, processing, and R&D.
There has been ongoing discussion within government about the future of the ELMS scheme which will underpin future payments to UK farmers as part of our new Agricultural Bill. One can only hope this is resolved once and for all in 2023.
It seems government thinking is, at best, muddled. The Dimbleby Report on food and farming appears to have been gently pushed to one side. On the one hand, the Government says it wants to encourage a greater sense of food security in the UK, but on the other, it seems to want to open up the UK market to increased international competition.
Affordable sustainability
This worrying backdrop of severe climate change impacts, soaring input costs and political uncertainty means 2022 will be a year that not many in the horticultural sector will forget. But what will 2023 bring? Many of the fundamental factors that caused these issues in 2022 will not immediately go away. It is clear the economy is going to experience a difficult period. We are about to go into recession, which might last some time, and the overall situation will remain volatile and uncertain. All major produce categories have seen significant increases in the prices consumers are paying.
While fruits and vegetables remain, in our view, good value for money, there will inevitably be some impact on consumer spending. The latest government forecast is that inflationary pressure might well begin to ease in the middle of 2023, and this can only be good news for farmers and consumers.
Supply chain margins are still too thin, so it remains to be seen whether businesses can withstand further shocks – on top of Brexit, Covid, the war in Ukraine and so on. We have probably already reached something of a tipping point following the upheaval of the past few years. But in future it is important to consider supply chains' sustainability, and the industry's willingness to invest in them – not just for profit, but also for resilience. UK and international supply chains remain very 'transactional' and/or commercial in nature, but in 2023 we will hear a lot more about "affordable sustainability".
Nevertheless, there are now more ways of getting fruits and vegetables to UK consumers than ever before. There are the major retailers, convenience stores, e-commerce, farmers markets, farm shops, and a foodservice sector that is slowly recovering from the impact of the pandemic. This is cause for at least some optimism going forward.
A watershed moment?
In many ways, 2023 could be something of a watershed moment for the horticulture sector. Producers will either get out, or stay in. We'll see robotics and plant genetics deployed more effectively than ever before. Climate change and sustainability issues will be taken more seriously. Government policy on production and trade looks set to stabilise after a period of huge uncertainty. Inflationary pressure should begin to ease – but maybe not until the middle of the year.
Meanwhile, staffing issues will remain a key challenge. Recruitment, onboarding, staff retention, training and career development will all be critical, and finding enough staff could get even harder – there were 1.2 million job vacancies in Britain at the time of writing.
What is certain is that the UK's fresh produce sector will see another year of change and opportunity. In this kind of environment, the winners will be those who are well informed and prepared for change – and can demonstrate a combination of flexibility and resilience to enact it.
John Giles is a divisional director at Promar International, the consulting arm of Genus plc. He has worked on fresh produce assignments in some 60 countries around the world. He is also the current chair of the annual City Food & Drink Lecture.