Tristan Fischer, chief executive of vertical farming business Fischer Farms, argues that agritech investment is the way forward as the world faces a food crisis exaccerbated by the war in Ukraine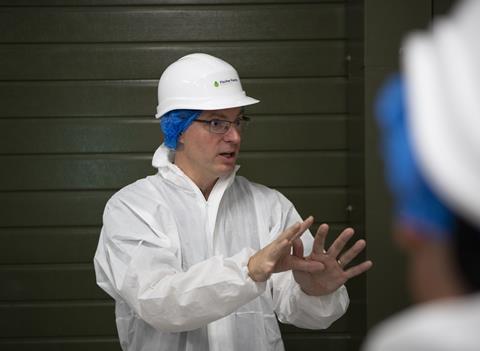 Investment in agritech must be made now to combat the deepening global food crisis. Fuelled by further bans on wheat exports, and unpredictable climate conditions, there is an urgent need to find innovative ways of safeguarding our food security.
Food security is under increasing pressure as global supply chains face continued disruption. The war between Russia and Ukraine – two of the world's biggest wheat producers – has driven the price of staple goods to record highs. And India's recent heatwave, and subsequent export ban, has caused further inflation and shortages of the cereal. This leaves the rest of the world in a fragile position.
We have become too reliant on a small number of countries for our produce, and when they face challenges, whether that be at the hands of conflict or climate, we all suffer the consequences. Take places like Ethiopia and Somalia for example – they get almost half of their wheat from Ukraine, so if exports completely halt, there will be a major shortfall, driving up prices yet again. With the countries we once depended on for seasonal and all-year-round produce becoming increasingly unsustainable, there is now a critical need to find new ways of feeding the population.
Agritech provides immense promise when it comes to sustainable and resilient food production. Vertical farming, in particular, is capable of producing yields 250 times greater than traditional farming, uses less than five per cent of the water required for conventional cultivation, and can be completely powered by renewable energy.
Driven by the latest agritech innovations, vertical farming can grow fresh produce, like salads and herbs, in an environment completely unaffected by weather conditions and water availability. This infrastructure can be established in almost any country in the world, regardless of climate and soil quality, providing a significant opportunity for economically disadvantaged and water-scarce regions to transform their food supply chains and revolutionise their economies.
The technology is evolving rapidly, and we believe that vertical farming has the potential to grow calorific staples, such as rice and wheat, and protein staples, such as peas and soya beans, sustainably at scale, in any location of the world, within the next decade.
By investing in the future of farming, we are giving countries the power to build their own sustainable and reliable food networks, which in turn will solve the export crisis and safeguard both food security and local economies.
Fischer Farms is set to open the world's largest vertical farm in winter 2022. Based in Norfolk, the farm will offer 25,000m2 of vertically stacked growing space, providing the capacity to supply 6.5 tonnes of leaf salad, leafy herbs, and other fresh produce to UK supermarkets every day.
By maximising the use of land, the four-acre vertical farm will be able to grow the same amount of food as 1,000 acres of conventional British farmland, using up to 98 per cent less water, without pesticides, herbicides, or insecticides, and with no impact on the surrounding countryside. Powered by 100 per cent renewable energy, the revolutionary vertical farm will produce the freshest, longest-lasting, safest, most consistent, and highest quality British-grown produce all year round.
I hope it will act as a shining example for future projects as the world faces up to an increasingly urgent food crisis.
Alongside Fischer Farms, Tristan Fischer's agritech interests also include FishFrom, a land-based salmon company; and Great British Prawns, a land-based shrimp company, both using Recirculating Aquaculture Systems (RAS) technology. He has wide-ranging experience in clean energy infrastructure, and is the former chairman and CEO of Lumicity, which developed over £145m of infrastructure assets in the UK agricultural sector.