The British biocontrol technology manufacturer unveils four new biofertilisers for use in UK horticulture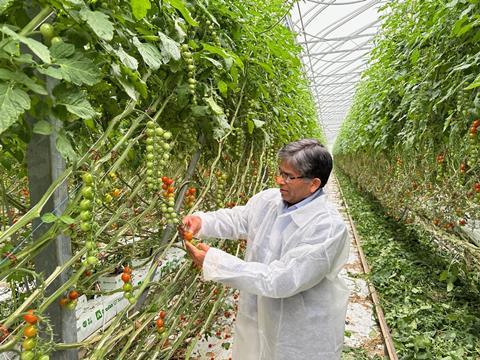 Bionema Group Ltd, a leading UK-based biocontrol technology developer and manufacturer of biocontrol, biostimulants and biofertilisers, has announced the launch of a new range of biofertiliser products in the UK for use in agriculture, horticulture, forestry, sport turf and amenities.
The Swansea University-based organisation is launching four biofertilisers comprising living microbes that enhance plant nutrition by mobilising or increasing nutrient availability in soils and substrates.
Its new BioNFix and Rhizosafe range restore the soil's natural nutrient cycle and build soil organic matter, enhancing plant growth while avoiding the use of synthetic fertilisers that can pollute the world's waters and its atmosphere, it said in a press release.
Field trials conducted by Bionema in different parts of world demonstrated significantly enhanced growth in agricultural crops grown with biofertilisers, and positive changes in soil organic matter content and pH, soil type and agroecological condition, the firm said. These effects resulted in yield improvements as well a 40–50 per cent reduction in synthetic fertiliser use.
Commenting on the products' launch, Dr Minshad Ansari, founder and CEO of Bionema Group Ltd, said: "Bionema's collection of exclusive microorganisms and its novel delivery system provides a unique solution to soil fertility and crop health improvement. With a wide range of microbes that support Nitrogen fixation, Phosphorus solubilisation, Potassium mobilisation, and more, these biofertilisers are the ideal choice for anyone seeking to boost their soil's health and vitality."
Dr Sarah Harding, global head of Innovation at Bionema, added: "These new products are the results of many years of research, not just into the microbes used for promoting and protecting plant growth, but also into the technology used for formulating these products in a way that ensures their survival and efficacy in the field."
Bionema's expanded portfolio reflects Bionema's evolution in focus and strategy, announced in 2022 following the company's deal with Syngenta that secured Bionema's position as a top 20 world-leading biocontrol company.
"Our vision is to be a leading BioAg technology developer and manufacturer, reducing the need for chemicals in modern-day farming," said Ansari. "We are part of the real green revolution, which is happening right now, and we are investing in our planet's future by putting a stake in fertile ground, the BioAg way."
The global biofertilisers market was valued at US$2.6 billion in 2021 and is projected to reach US$4.5 billion by 2026, the firm said.