Cross-industry initiative receives £1.2m UK funding to investigate role compostable packaging can play in road to no plastic
A new initiative to establish the role compostable packaging can play in transforming the way that the UK makes, uses and disposes of plastic launched yesterday (12 September).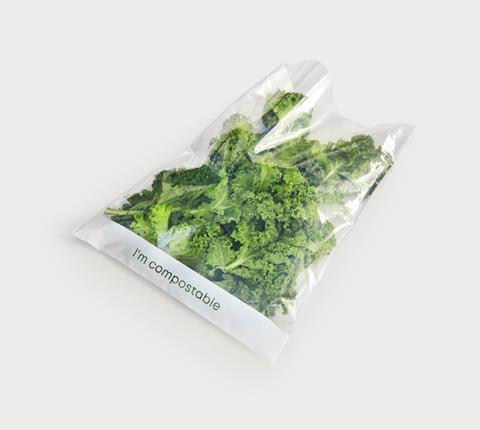 The Compostable Packaging Coalition, a group of 10 industry, academic and infrastructure associations, received £1.2m in funding from UK Research & Innovation (UKRI) to examine the practicality of collecting, sorting and treating compostable packaging via existing bio-waste collection and treatment routes, with a view to advancing necessary systemic changes in the UK.
It is the first project of its kind to examine the role of compostable packaging in transitioning away from single-use plastics to meet key goals of the UK Plastic Pact, the coalition said in a statement.
As part of the initiative, customers of vegbox supplier Riverford Organic Farmers will participate in a take-back programme; while local residents of Milton Keynes, along with shoppers across multiple cafeterias in London, will divert compostable packaging with their food waste into proper food waste bins, the coalition said.
Packaging producers TIPA, Futamura, Vegware and Biome, meanwhile, will work to support the removal of hard-to-recycle plastics from the market. And Hubbub and the University of Sheffield will lead research on consumer behaviour. At the same time, bio-waste partners will investigate whether compostable plastic can be sorted and processed to create high quality compost that can be applied to support soil fertility.
Results from the 24-month study will identify policy and legislative interventions to enable compostable packaging to address the global plastics challenge, the group said.
The project comes in response to Defra's call for further evidence to support the case for wide inclusion of compostable packaging in UK's bio-waste treatment streams.
The 10 Compostable Packaging Coalition partners are:
TIPA Corp UK Ltd (compostable packaging manufacturer)
Vegware Ltd (developer of foodservice packaging made from plants)
The University of Sheffield (who will lead dedicated workstreams on behavioural insights and life cycle assessment)
Biome Technologies PLC (manufacturer of bioplastic polymers)
Futamura Chemical UK Ltd (manufacturer of cellulose films)
The Association for Renewable Energy and Clean Technology (REA, the UK's largest trade association for renewable energy and clean technology companies, including AD operators and compost producers)
Paper Round/Recorra (waste management company)
Recycling of Used Plastics Ltd (RECOUP) (A leading authority on plastic recycling & resource management)
Hubbub Foundation UK (environmental charity)
Envar Composting Ltd (compost producer)