Apple brand collaborates with chef that rose to fame in last year's Great British Menu, creating series of recipes that help fight food waste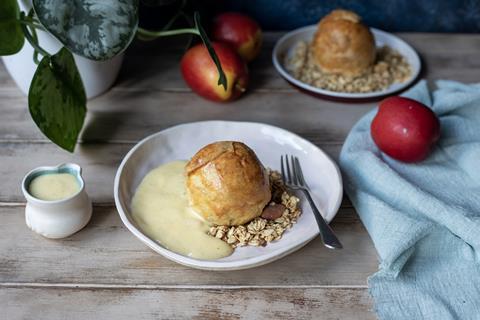 Jazz Apples have teamed up with high-flying young chef Mark Aisthorpe to showcase how consumers can turn everyday ingredients into "moreish masterpieces" and cut down on their kitchen waste.
Aisthorpe's selection of sustainable recipes includes:
Crispy pig jowl with burnt Jazz apple purée
Vegan bao buns loaded with BBQ oyster mushrooms and Jazz apple slaw
Salt baked beetroot with Jazz apple, walnuts, goat's cheese and honey
Braised pork belly and Jazz apple sauce
Baked Jazz apple pie with custard
The chef commented: "I have always been a huge lover of apples and a Jazz really is as good as it gets. Fantastically crisp, juicy and sweet – the special crunch and flavour profile also make them a great ingredient to elevate recipes.
"With a huge amount of apples wasted every day, we all need to make sure we utilise them to their max, especially during the British season. Hopefully these affordable recipes can inspire people to make the most of their apples and ensure they don't get left to rot in the fruit bowl."
After honing his skills in one and two Michelin star restaurants and hotels, Aisthorpe took over The Bulls Head in Holymoorside, Chesterfield in 2016.
In 2022 he was a regional finalist in the 17th series of the Great British Menu, and a Michelin star is the next target for the business.
Aisthorpe has had to overcome real adversity in his life: he has cystic fibrosis and as a 17-year-old he was offered a drug that could help his condition. The catch was that there was a one-in-20,000 chance of partial deafness and he ended up being that unlucky one.

Undeterred, Aisthorpe taught himself how to lipread and continued to forge ahead with his passion for food and fine dining.