Nottinghamshire cooperative Freshgrowers launches world's first carbon-neutral carrots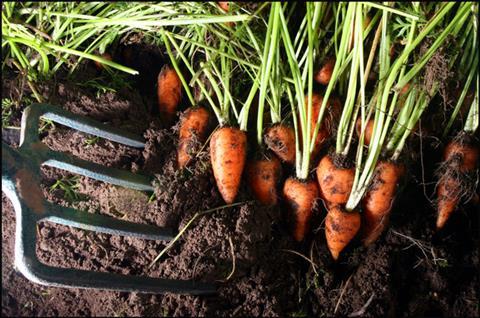 Nottinghamshire vegetable cooperative, Freshgrowers (Freshgro), has produced the world's first carbon-neutral carrots.
Working with Campbell-Gibbons Consulting, Intellync-Sustain and Carbon Neutral Britain, the group of 10 growers used a product life-cycle analysis approach to calculate the carbon footprint of its Chantenay carrot production from field to packhouse.
The data revealed "an impressively low" level of greenhouse gas emissions (GHGs) from the production and harvesting of the 2021/22 Chantenay crop, at just under 363 tonnes of carbon equivalent (CO2e) for 12,500 tonnes of carrots. That's a carbon footprint of just 0.03 grams of CO2e per kilogram of carrots.
To put that into perspective, the average carbon footprint of a kilogram of beef is 60kgCO2e, bananas 0.7 kgCO2e, eggs 4.5kgCO2e and milk 3kgCO2e.
The largest source of GHG emissions from Chantenay production overall was the fuel used in field operations (77 per cent), with the remaining emissions produced by fertiliser, crop protection products and the incorporation of crop residues into the soil.
"Chantenay may be small, but we have big sustainability plans for our carrots and are very proud of our carbon neutral status." said Martin Evans, managing director of Freshgrowers.
"This is the final step in a long process of carbon reduction for us as a cooperative. Growing carrots in and around the Sherwood Forest landscape character area, we have always taken a pride in soil conservation, provision of habitat for farmland birds and insects, and sympathetic hedgerow management. All of our farms have participated heartily in agri-environment schemes since their inception too. But now, with our carbon neutral status and new sustainability plan, we are seriously upping our game to deliver even more for the environment from the production of our carrots."
James Poynter, director of Carbon Neutral Britain said: "Carbon Neutral Britain is proud to support Freshgrowers in their Carbon Neutral Product status. It is great to see that the environmental impact of production is already quite small, and by carbon offsetting Freshgrowers will be reversing their environmental impact from some unavoidable emissions in the production and harvesting process.
"Through Carbon Neutral Britan's Climate Fund portfolio, Chantenay's emissions will be offset via renewable projects around the world, resonating well with the growers' own investments in green energy as a cooperative."
The carbon measurement and offset exercise will be repeated annually, with the next audit due in spring 2023, Evans explained: "Our carbon footprint may be low, but the challenge now is to see if we can reduce it even further.
"We hope our customers will embrace our achievement too as they seek to tackle their own supply chain emissions. Our new on-pack labelling will be rolled out over the coming weeks and will help customers to easily our carbon-neutral carrots on the shelf.
"Make no mistake, orange is the new green."
Freshgrowers (often referred to as Freshgro) is a co-operative formed in June 1998 by 10 farmers. The group brought back Chantenay carrot production to the UK and is now the world's leading supplier, supplying over 90 per cent of the UK Chantenay market. Freshgro has a farming base of over 20,000 acres, and grows and markets both conventional and organic vegetables, including Piccolo parsnips, asparagus and other root crops. It has nearly two acres of factory space, serving all the country's retailers.