UK potato supplier Branston begins second year of extensive net-zero potato production trials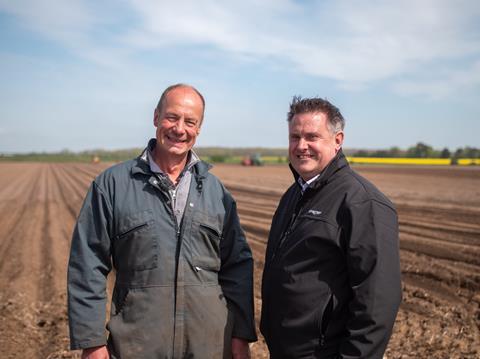 Leading UK potato supplier Branston has launched new trials to pioneer the net-zero production of potato crops.
Branston this week (10 May) began plantings for its second year of extensive field trials, using sustainable fertilisers, reduced cultivations, varieties and improved soil health, alongside improvements in storage and transport.
The company was awarded £2.1 million by Innovate UK in 2022 to carry out a net zero project over a three-year period, alongside partners including agri-tech firm B-hive Innovations, the University of Lincoln, crop storage technology firm Crop Systems Ltd and growers in Lincolnshire and Scotland.
Branston said its net zero project aims to sustainably change the way that potatoes are grown, stored, and transported, while still producing a commercially viable crop - and in turn delivering a staple food that is better for the planet.
The three-year bid to capture data to help establish a process of achieving the lowest possible greenhouse gas (GHG) emissions has started its second year of testing as the planting season begins.
"Potato growers all want to know how they can reduce their fertiliser, fuel and electricity consumption as part of their net zero strategies, so they are extremely engaged in what we are trying to do," said Andy Blair, the technical field manager leading the project for Branston, which handles 350,000 tonnes of potatoes a year and supplies to national retailers and wholesalers. 
"Fertiliser use is a major challenge and plays a significant part in all our trials. During the coming year, we will focus efforts to understand different novel fertiliser types and application rates to investigate yield and quality during growing." 
Blair said Branston has helped to develop a revolutionary organically derived low-carbon fertiliser that uses by-products. The carbon footprint of this product is much lower than conventionally produced fertiliser. Plant growth and nutrient uptake will be monitored continuously throughout the trials. Assessing new technologies affectively putting the plant into a high-care hospital unit feeding the plant what it needs when it needs it.
Previous trials have been conducted to identify varieties with vigorous growth that might perform with fewer inputs, twelve of these varieties will be included within the net zero project.
Nicola Matthews, Branston net zero research manager, said: "Knowing as much as possible about our soil biology, physical properties and nutrient content will allow us to tailor cultivations and applications to maximise yield while reducing the greenhouse gases that are released during the production of the potato crop.
"The aeration of the land is activating microbes and causing carbon dioxide release from the soil, one of the main principles behind regenerative agriculture is to minimise soil disturbance," she explained. 
"Reducing cultivation in potato production is difficult however we will continue to look at minimum tillage techniques as well as more extreme growing methods such as growing under a straw mulch."
Alongside the University of Lincoln, Branston is also analysing new technologies in the growing process, with trials of an R-leaf technology spray - a nitrogen-fixing photosynthetic catalyst - converting nitrous oxide in the atmosphere into available nitrogen that can be taken up through the leaf.    
The net zero project is also looking at innovative cold store designs to keep stored crops in optimum condition while minimising energy usage and environmental impact. Crop transport and its associated carbon footprint is also coming under the consortium's spotlight.
Blair concluded: "The new trials have meant a real acceleration in the project, now this year is much bigger than last year, and it is great to tap into the scientific knowledge and all the new technologies that are being offered.
"We are very excited to see what the results bring and hope this ground-breaking research will lead to major changes and opportunities for the potato production industry from start to finish."