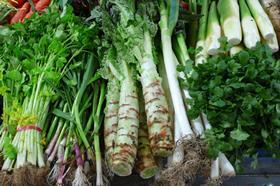 London's New Covent Garden Market has tipped Asian wok cucumbers, celtuce, foraged sea vegetables and crabapples as restaurant ingredients to watch in 2022.
Meanwhile, potatoes are enjoying a resurgence with new varieties coming to market and vegan-friendly potato milk hitting the shelves, as chefs' preference for British-grown produce increases.
The market's annual Fruit and Vegetable Trends Report rounds up the latest restaurant trends and is based on qualitative insights from its wholesale traders who collectively supply around half of all of the fresh produce eaten out of home in London.
This includes many of the capital's most fashionable restaurants such as La Gavroche, Sketch, Soho House, Jikoni, Darjeeling Kitchen and Restaurant Story.
According to the report, these are the trends to watch in 2022:
British boom
The popularity of British-grown fruit and vegetables continues to boom in commercial kitchens and beyond, and this is putting pressure on growers to innovate, according to NCGM's report.
"Smaller British growers are increasingly sought after," said Liam Kelly from NCGM trader County Supplies. "There is a focus amongst our customers on being super-seasonal, but essentially there's not enough homegrown crops to cater for the demand. It's not year-round and there's not as much variety for what the supply chain would like to sell.
"If something is British, it is that bit more attractive. This has nothing to do with Brexit though, it's been a trend for a while, and it's linked to a desire to create menus that are eco-friendly, sustainable and biodynamic."
Cucumbers, but not as we know them
According to NCGM wholesaler S. Thorogood and Sons, summer 2022 will be all about cucumbers. Asian wok cucumbers are being grown in the UK for the first time at The Caffarelli family farm in Cambridgeshire, which will be supplying S. Thorogood and Sons exclusively with this new variety. Unlike traditional cucumbers, Asian wok cucumbers are used in hot dishes to add extra crunch and juiciness.
In addition, smaller snacking cucumbers are set to grow in popularity according to the report.
Celtuce grown in the UK for the first time
Kelly explains that celtuce is a stem lettuce that's popular in both mainland China and Taiwan. "It has a strong taste and a similar texture to iceberg lettuce, and it's newly being grown in small volumes in the UK," he said.
"Currently it's mainly imported from Spain and France, but chefs are increasingly incorporating it in their menus, looking to offer something genuinely new and different."
At the same time, the availability of some other Asian produce has become reduced according to Vernon Mascarenhas of Nature's Choice.
"SomeAsian products that chefs love just aren't available in the volume they used to be, if at all – and if there is product available, the prices have risen significantly," he said.
"Things like snake Beans and a lot of the popular Chinese vegetables like bok choy and choy sum are a good example; you just struggle get them in the UK anymore.
"One of my customers used to swear by Thai shallots, but even if they are available, they are now as much as £50 a sack, so he's had to adapt."
Foraging by the sea
With demand for British produce higher than ever, some have taken to wild sea and beach foraging as a way to create unique menus.
Stan Gulas of Oui Chef has noticed that sea vegetables, such as sea beet and sea purslane, are peaking particular interest among chefs.
Native to shingle beaches, cliffs, seawalls and saltmarshes, sea beet's dark green leaves can be cooked similarly to spinach or chard and have a rich, succulent flavour with a salty tang.
Meanwhile, sea purslane, similar to samphire, is a small prostrate herb with succulent, salty leaves.
Gulas also mentions the booming popularity of crab apples. While previously disregarded by many due to their sour flavour, have seen a renaissance with chefs using this foraged fruit for jams and jellies.
Spuds in the spotlight
Weird and wonderful new varieties of fruit and vegetables are emerging in Britain, but the humble potato is also having a moment, according to NCGM's Trends Report.
According to Jenny Irvine from Pure Package, a healthy recipe box delivery company based on the market, potato milk is on the rise as a more sustainable plant-based alternative to dairy milk.
Potato farming produces considerably less CO2 than dairy farming and uses half the land required for the same amount of oat milk.
It is being fortified with Vitamin D, calcium, and folic acid, and Pure Package is already selling potato milk in three styles: original, barista, and unsweetened.
Meanwhile, a new South American potato variety called Olluco is gaining in popularity. Widely cultivated and consumed in Peru, Bolivia, Ecuador, Colombia, Argentina, Venezuela, and Chile, it's a predecessor to the potato Christopher Columbus first brought to British shores.
Purply red in colour, the Olluco tuber is also rich in protein, carbohydrates, vitamin C and vitamin B1.
Being good to your gut
People's awareness of gut health is already increasing but NCGM's report predicts this trend will gain more momentum in 2022, becoming a major trend.
"The general public is becoming increasingly knowledgeable about how vital it is to maintain a healthy gut, and this in turn has led to a surge in gut-boosting foods," said Irvine.
"It's been well documented that consuming 30-plus plant foods in a week is linked to optimal gut-health and digestion, which has seen health-conscious consumers upping their intake of fresh produce."
Meanwhile, Gulas has seen an increase in chefs incorporating gut-friendly miso and sauerkraut in their menus.