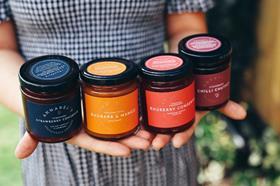 The woman behind the Annabel's Deliciously British brand of strawberries has launched a new range of jams, chutneys and preserves to make full use of her crops.
Yorkshire grower Annabel Makin-Jones grows berries, forced rhubarb and honey at her farm in Micklefield near Leeds.

Her new range includes a Strawberry Conserve, a Rhuberry Conserve, a Strawberry Chilli Chutney, and a Rhubarb and Mango Chutney, with a donation being made to The Prince's Trust for every jar sold.
The launch follows another partnership with Hesper Farm yoghurts and a recent collaboration with Otterbeck Disillery on a Strawberry and Pink Peppercorn Cotton Gin.
"Utilising the whole crop is vitally important to my farming ethos," said Makin-Jones, who says she runs a zero-waste farm.
"When I looked at the jam market, I was shocked but not surprised that virtually all the supermarket jams, and most of the artisan jam market, used imported fruit.
"I recognise we're all accustomed to global flavours and I embrace this – I use mango in my rhubarb chutney as it's a fabulous combination – however we need to address food waste on all levels starting at source. To achieve zero waste, we need to use everything we produce on the farm."
The Yorkshire grower, who studied Agri-Food and Business at Harper Adams University, says she wants to combine sustainable agriculture practices with savvy branding.
"Sustainability is at the very core of my farming," she said. "We moved to compostable punnets last year and have worked hard to remove plastic from our supply chain.
"All our water requirements for the crop come from our 25-million-gallon lake, and we generate electricity from solar panels. We've planted trees and improved our habitat.We've introduced hives to the farm. Protecting pollinators is so important to farming and we're starting to produce honey on the farm."
"If there is one silver lining from the pandemic, it's that it has caused us to value the role that food plays in our lives.We are more conscious of food waste as we're shopping less frequently. These are good changes to behaviour."