This is the first variety released by the Green Motion platform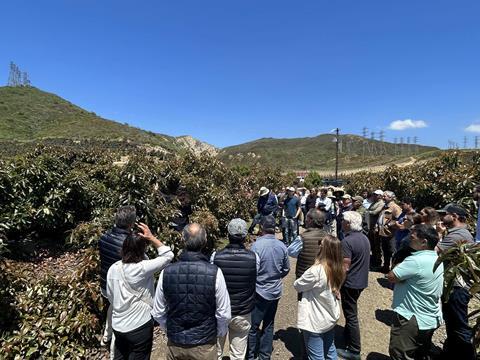 More than 100 California avocado growers attended an event at University California Riverside (UCR) last week for the launch of a new avocado variety developed by Eurosemillas.
BL516, which will be marketed as Luna UCR, is a B flower type producing Hass-like fruit. It grows on slender trees, which take up less space allowing for high-density plantings.
"In addition, in spring it releases much more pollen than the other type B varieties and as its flowering coincides with that of Hass for up to six weeks, it achieves better setting, boosting plantation productivity and thus multiplying profit margins for growers," Eurosemillas said.
Luna UCR is the first variety launched by the Green Motion platform, which is developing a new generation of avocados to make this crop more profitable and sustainable.
Javier Cano, director of Green Motion, commented: "Luna UCR will revolutionise avocado production. It had never been thought that a type B flower variety could be the main variety and that Hass, Lamb Hass or Gem (all type A flowers) act as pollinators.
"Leaving aside the quality of its fruit, which is equivalent to Hass in size, flavour and post-harvest life, Luna UCR is a great tool to modernise plantations in a simple way. More trees per hectare, more available pollen, more production, less water consumption per kilo produced, more profitability".
Green Motion said it has already selected a second later variety and another earlier than Hass, which will extend the harvest period by almost two months. In the coming years, it will launch a fourth variety, which it plans to market as a gourmet avocado due to its exceptional flavour.
The platform is also working on varieties with smaller trees, as well as cultivars adapted to areas with high salinity and with greater fungal resistance and water stress.