US company releases new haskap variety that it says has 15-20 per cent higher yields
Berries Unlimited, one of the world's largest developers, grower and exporter of haskap (or honeyberries) in the US, today announced it has released its new Honey Champion (plant is patent pending) variety.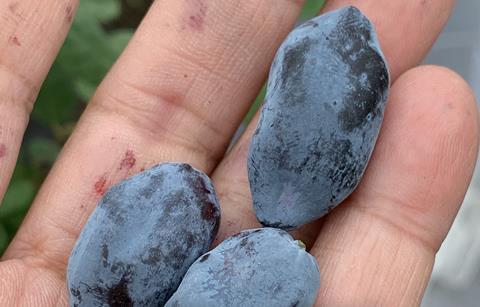 The Honey Champion plant, which originates from Japan, is described by the company as wind resistant, not breakable and not fragile during new growth, with "vigorous and fast growing" bushes growing 5-6ft in height.
The berries can be eaten fresh, frozen or dried, are easy to pick or harvest and are easy for bees and insects to pollinate, Berries Unlimited noted.
"We created this honeyberry on our farm and it has 15 to 20 per cent higher yields, which means more antioxidants per bush," explained Lidia Delafield, owner of Berries Unlimited. "The Champion honeyberry has an excellent flavour, is very sweet and is the biggest berry and I think it is the best honeyberry."
According to the group, the top criteria all over the world for haskap are taste, flavour and growing habits, and the Honey Champion "delivers for taste and flavour".
Key characteristics include tough skin, firmness, dry scar, a nice shape for sorting out, and uniform berries that ripen about the same time for easier production.
"They have a very long shelf life that is hard to achieve. The berries can stay up to a week without refrigeration, just left on the table. It is the most valuable feature for the fresh market sales."
"I love that our customers can eat Honey Champion berries as a sweet fresh berry right from the bush, make jams, jelly, juice, even wine or harder liquors," said Delafield. "We add it to maple syrup or strawberries, and it give them new shades of flavour. The berries are great when you freeze them or dry them and are also great for baking and cooking."