US$2.3bn investment has been earmarked for port infrastructure improvements and upgrades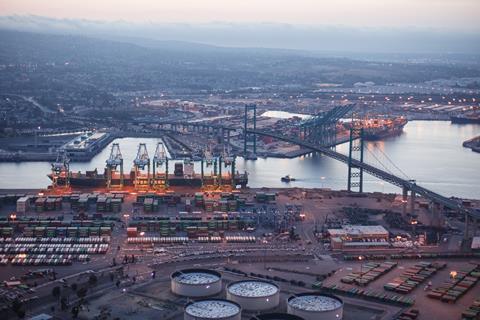 An unprecedented $2.3bn for port infrastructure improvements and upgrades has been included in California's upcoming fiscal year budget.
Signed by California governor Gavin Newsom, it sets aside US$110m for the creation of a new Goods Movement Training Campus at the San Pedro Bay port complex.
"We commend governor Newsom and the state legislature for their foresight and leadership in making this much-needed commitment to create a more resilient California freight system," said Port of Los Angeles executive director Gene Seroka.
"Continual investment in port infrastructure, sustainable technologies and jobs creation is essential to maintaining our competitiveness, now and in the future.
"Workforce development is an equally critical component of the goods movement sector," added Seroka. "We are thrilled to have the Governor's support of our initiative to create the nation's first training campus to benefit our industry. The Port of Los Angeles plans to donate land and invest millions of dollars of our own capital in this facility."
The Port of Los Angeles and the Port of Long Beach are working together to create the Goods Movement Training Campus, which will focus on worker skill development, upskilling and reskilling to address the rapidly changing needs of the logistics industry.
It will also serve as an industry resource for training workers on emerging green and zero-emission technologies.
In addition to the training campus investment, the governor's US$2.3bn plan for ports includes US$1.2bn for port-related projects that increase goods movement capacity on rail and roadways serving ports and at port terminals, including railyard expansions, new bridges and zero-emission modernisation projects.
There is also US$760m set aside for zero-emission equipment and vehicles, including human-operated zero-emission port equipment, short-haul (drayage) trucks and infrastructure.