Volume of shipments rises to 415,315 tonnes thanks to recovery in Chinese demand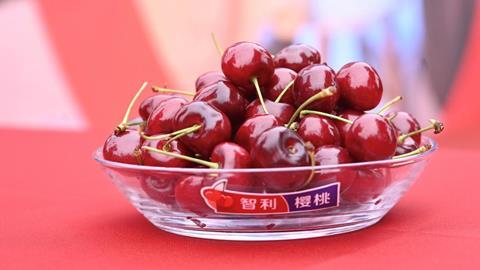 The lifting of Covid restrictions in China, an improved logistics outlook and a good quality crop helped Chilean cherry exports reach a record 415,315 tonnes in 2022/23, a volume growth of 16.55 per cent on the previous season.
The results mark a return to form after two difficult years for the sector – albeit in a season that was not without its own challenges. Iván Marambio, president of fruit association Asoex, noted: "There were many factors that came together to favour exports. Logistics worked better, the favourable climate helped fruit quality and the ending of China's Zero Covid policy meant people could leave their homes more freely to shop and to attend and enjoy Chinese New Year celebration activities or travel to reunite with family members, all of which allowed us to promote greater consumption".
Claudia Soler, manager of Asoex's Cherry Committee, said fruit movement had been brisk, with larger sizes fetching good prices. "Chinese consumers were very eager to buy Chilean cherries – perhaps because they'd been locked up for so long and wanted to treat themselves," she said.
Regarding this season's marketing campaign, Soler noted that the committee had "exceeded the goals that we set ourselves in China, the US and Korea, where the objective was to deepen our market presence and knowledge, while in Thailand, Vietnam and India the activities were aimed at opening up the market".
Improved logistics
Marambio said a big part of the season's success was due to the work done by Asoex to ensure there was adequate logistics provision and port options for shippers. There were more Cherry Express vessels bound for China, while US-bound cherries were carried on the Blueberry Express from the port of Coronel to the port of Gloucester.
"This service was the first of its kind, making it possible to deliver the fruit in 12 days and diversifying both the ports of departure and arrival," Marambio said. "Arrivals at Gloucester totalled 6,549 tonnes, an increase of 104 per cent on 2021/22, consolidating its position as the main port of entry for Chilean cherries shipped to the US."
This season also saw the first Cherry Express disembark at the port of Dalian in northeast China. In the run-up to Chinese New Year, a total of 30 ships carrying cherries left Chilean ports bound for China. This greater diversification of ports of entry and exit prevented bottlenecks that have characterised previous campaigns during peak shipment weeks.
Together with the excellent work done by importers, distributors and other actors in the logistics chain, this allowed the industry to reduce costs and minimise delays, ensuring fruit arrived with the quality, condition and freshness demanded by the market, Soler said.
"By diversifying ports in Chile and China we were able to reach other regions more efficiently and with a better product, especially tier 2 cities, which is where we're looking to increase consumption," she explained.
Nevertheless, Soler acknowledged that more must be done to improve logistics in other markets such as Korea, where delays and bottlenecks are still having a detrimental impact on the condition of the fruit on arrival.
Chile's cherry acreage has almost doubled in five years, climbing from 38,291 ha in 2019 to 61,559 ha today. The rate of growth poses significant challenges for the committee, not least when it comes to maintaining quality levels across the industry and putting in place effective marketing strategies to sell such a sizeable volume of fruit in a relatively short space of time.
Soler describes these promotions – be it to consolidate Chile's presence in established markets like China or to open up new markets – as "part of a consistent and long-term effort to build our brand equity" so that consumers can have confidence that when they buy Cherries from Chile, they are guaranteed a consistently high-quality product.
Market diversification
While China still dominates Chile's cherry programme taking almost 89 per cent of the total export crop, the sector's diversification efforts are beginning to bear fruit. Shipments to the US grew almost 40 per cent to 18,894 tonnes, while Latin America also took almost 40 per cent more cherries than in 2021/22 at 9,086 tonnes.
Exports to China grew 16 per cent to 364,314 tonnes, while Taiwan registered an increase of 7 per cent to 6,426 tonnes. However, shipments to Korea decreased by 5 per cent to 6,546 tonnes.
Europe, which ranks as the fourth biggest market for Chilean cherries, took 4,612 tonnes in 2022/23, a fall of 26 per cent on the previous season. Asoex said this was due to logistical problems at UK and Dutch ports, as well as the negative impact of inflation on consumer spending power.
Finally, the Middle East received 278 tonnes of cherries, an increase of 1.46 per cent compared to the previous year. Here, the main destinations were Saudi Arabia and the UAE, taking 55 per cent and 45 per cent of the total respectively.