Revenue up, adjusted net income down as Dole says it remains in a position to deliver a "good result" for the year
Dole has revealed its results for the second quarter and first half of the year, with revenue climbing 4.4 per cent year-on-year to US$2.14bn.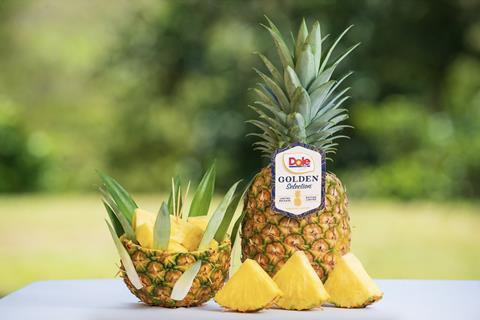 This was attributed by Dole to a strong performance in the Fresh Fruit and Diversified EMEA segments, offset partially by its Diversified Americas segment.
Net income for the quarter rose 8.1 per cent to US$52.3m, while adjusted EBITDA stood at US$122.7m, up from US$111.8m last year.
Adjusted net income fell to US$48.4m from US$52.4m in the second quarter of 2022, predominantly due to higher interest expense.
"We are very pleased with the strong result for the second quarter, delivering adjusted EBITDA growth of 9.7 per cent," said executive chairman Carl McCann. "This result is due to the dedication and efforts of all our people across the group.
"As we progress through the second half of the year, our performance for the first six months gives us confidence in achieving our targeted Adjusted EBITDA for the full year of at least US$350m," McCann added.
For the first half of 2023, Dole saw revenue rise to US$4.13bn from US$4bn, while net income was US$72.8m, compared with US$51.8m in H1 2022.
Adjusted net income in the first half was US$80.1m, down from US$92.9m.
Yearly outlook
In its outlook statement for the year, Dole noted that it was "very pleased" with its performance in the first half of the year.
"In the first half of 2023, we have seen the benefit of improved logistical efficiencies in several areas, which is helping to bring more stability to our core fruit business," the group outlined. "Partially offsetting this benefit has been the anticipated reduction in commercial cargo activity.
"As we look out into the second half of the year and towards 2024, there is the potential for disruption in many of the key growing regions in Central and South America due to the onset of El Niño climatic conditions.
"However, we are monitoring the changing weather patterns closely and believe we are well placed to deal with potential challenges using our diverse sourcing network and due to our advanced farming practices," Dole stated.
"While the macro-economic environment remains difficult to predict, in our business we have seen positives such as the strengthening Euro relative to the US dollar, more open supply chains, and moderation of inflation for certain input costs.
"However, we do continue to be impacted by higher interest rates and other foreign currency movements," the group explained.
"Overall, taking the above factors into account, we believe our strong first half has put us in an excellent position to deliver a good result for the year and we are now targeting an adjusted EBITDA for 2023 of at least US$350m."