Colleagues and friends pay tribute to publisher Günter Schweinsberg, whose original idea it was to start what is now the world's leading fresh produce trade fair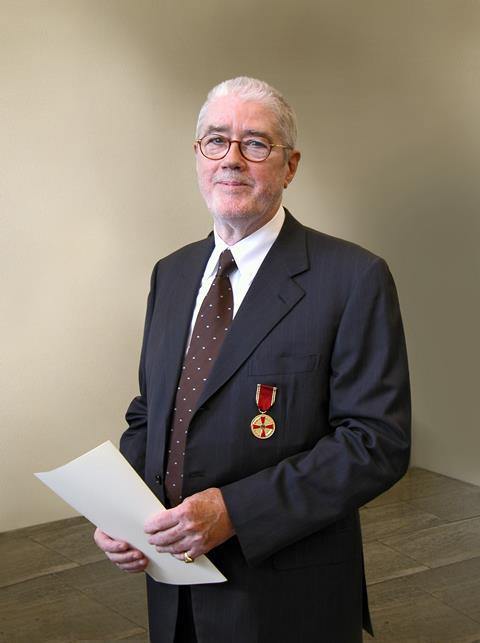 Günter Schweinsberg, the fresh produce business journalist, publisher, and chairman of Fruitnet Media International, died peacefully at his home in Düsseldorf in the early hours of Friday, 21 April 2023, aged 93.
"Günter was a fine man and a great servant to the international business of fresh fruit and vegetables, and his loss is deeply felt by us all," said Chris White, managing director of Fruitnet. "Günter was very busy into his old age: he always wanted to know what was going on, he was attentive to everything we wrote and said, and was always full of ideas and suggestions."
Comment: Chris White pays tribute to departed friend and colleague
More than 60 years ago, Schweinsberg began as a journalist at German trade weekly Fruchthandel Magazin, which was first published in 1916 and remains essential industry reading today. He became editor of Fruchthandel as the post-war economic boom turned Germany into Europe's largest consumer market. Then later as the magazine's owner in the 1990s, he seized the opportunity of German reunification to build an even bigger business, most notably with the creation in Berlin of Fruit Logistica. It has been his original idea to start what is now the world's leading fresh produce trade fair.
'Enormous gratitude'
"Here at Messe Berlin we honour the memory of Günter Schweinsberg and we remember him with enormous gratitude," said acting chief executive Dirk Hoffmann, " For decades, Günter Schweinsberg was closely associated with us here in Berlin. He was the co-founder of Fruit Logistica and his tireless work contributed significantly to its success. On behalf of Messe Berlin's Supervisory Board, Management Board, Group Works Council, and of all our employees, we send our deepest condolences to his family at this time."
"Thirty years ago, when most of his contemporaries were looking forward to retirement, Günter and his partners at Messe Berlin began the work to build Fruit Logistica," said White, who now acts as chairman of Fruit Logistica's Advisory Board, an entity Schweinsberg created and presided over for many years. "Günter fought hard in our sector for a stand-alone trade fair for fresh fruits and vegetables. It was his vision, drive, and determination which, together with the huge contribution of Robert Broadfoot and others, helped Fruit Logistica grow into global trade show that it is today. For this reason alone, everyone in the fresh produce business owes him an enormous debt of gratitude."
Schweinsberg had the skills of a fresh produce trader to sniff out business opportunities. In 1973, just as the UK joined the European Economic Community, he and David Hope-Mason, the British publisher of the Fresh Produce Journal, set up Market Intelligence. It launched Eurofruit Magazine and created the Eurofruit Congress, which quickly became Europe's number one fresh produce business conference and networking event. In 1995, Market Intelligence set up Asiafruit Magazine, it was followed in 1998 by the first edition of Asiafruit Congress, which in time led to the creation of Asia Fruit Logistica.
Publishing visionary
"Günter was a visionary in business publishing," explained White. "The fresh fruit and vegetable sector depends on a mix of information and networking. He saw the need to publish business information and to organise business events. It was a unique combination."
Schweinsberg was also one of the first in Europe to set up a trade marketing business for fresh produce. It helped growers – most notably in France, Belgium, and Spain – to market their produce in Germany with the support of a wide range of consumer-facing press and PR activity.
But Schweinsberg's masterstroke was Fruit Logistica. It was born out of an annual, day-long trade event called Frische Forum. His magazine hosted it in Berlin alongside Green Week, which for years was organised by Messe Berlin as a food and farming showcase for West Berliners who were cut off from the rest of Germany.
It was Schweinsberg's idea to bring all the fresh produce businesses into a single hall at Green Week. He then fought tirelessly to get Fruit Logistica off the ground. He worked his international network of contacts and encouraged them to take part at a time when the idea of a stand-alone trade fair for fresh fruit and vegetables was ridiculed. His timing was just right. Fruit Logistica took off and, as the event grew, it became a year-round enterprise for Fruchthandel in Düsseldorf and its sister publications in London.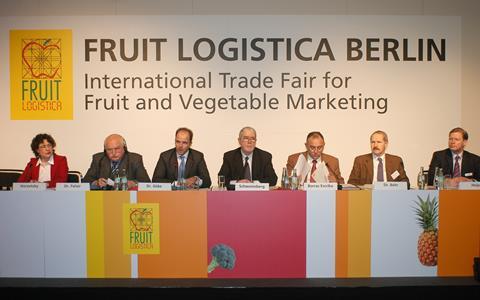 Broader horizons
The success of Fruit Logistica led in time to the creation of Asia Fruit Logistica. Its first edition took place in Bangkok in 2008, when Asia was still an afterthought for suppliers whose primary focus was Europe. White, who edited Asiafruit Magazine and had moderated Asiafruit Congress from its inception, spearheaded the move into Asia from London.
Soon enough, the businesses in Düsseldorf and London merged to become Fruitnet Media International, with Schweinsberg as chairman and major shareholder.
His lifetime of work in the fresh produce business brought wide recognition, most notably when he received the Order of Merit of the Federal Republic of Germany. He was also decorated by the French Ministry of Agriculture for his efforts to promote French fresh fruits and vegetables.
Schweinsberg is survived by his second wife Helga, his daughters Sabine and Anna, and his grandchildren Amy and Sebastian.