"Enthusiastic and excited" consumers give Autumncrisp brand the thumbs up at the New York Wine and Food Festival
Sun World has hailed the "exciting launch" of its new Autumncrisp brand at the recent the New York Wine and Food Festival (NYWFF), which took place on Hudson River Park's Pier 76.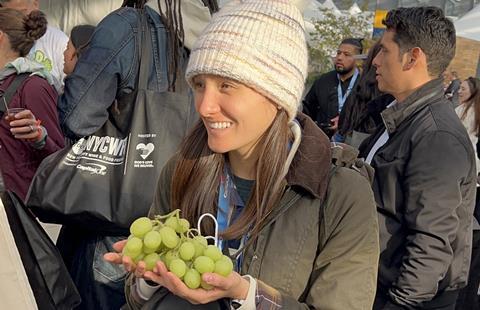 "We could not have asked for a more enthusiastic and exciting consumer debut," said Jennifer Sanchez, Sun World's vice-president of marketing, noting that the company knew it had a special grape on its hands.
"As part of this brand launch, Sun World hosted a sampling station at the NYWFF's event," she explained. It is reported that some 15,000 food and wine enthusiasts gained exposure to Autumncrisp grapes, which was the only fruit on show at the event.
"We know it has the potential to be the go-to grape for millions worldwide," said Sanchez. "Now it's time for consumers to decide, and their response at New York City Wine & Food Festival was immense.
"This could not have happened without the suppliers of the grapes for the event, Dayka & Hackett," she outlined, adding that the company's dedication to producing and supplying top quality Autumncrisp grapes for the brand launch was extremely important.
Sun World previously indicated that the new brand would be gradually introduced from the major table grape regions around the world, as the seasons develop and as production grows.
The New York event was therefore an initial experimental effort to establish the brand in the long term.
Grape growers, specifically in Southern Africa, have been carefully watching the developments around the development of the table grape brand.
If successful, they believe that it will be an important step in bringing new excitement to the table grape category and lift it out of the commodity branding of simply red, white and black seedless grapes.
Sun World has gradually spread its collaboration with growers around the world and Autumncrisp is now being offered to the trade for an extended period.
Leading developers have said that in order to be successful with branded products, they have to be in the consumer eye virtually all year round.
AutumnCrisp as a brand is new to the table grape world and seen as a brave effort in bringing new excitement to consumers.
In this case it is not only a new brand, but also offers exciting taste experiences that will be well received by consumers, as long as the promise of the brand in terms of appearance and taste is maintained.