The new PLU is available now through summer for bulk fruit and bagged brands that offer Mexican avocados
West Pak Avocado has announced a new price look-up (PLU) sticker as part of an industry initiative through Avocados From Mexico (AFM).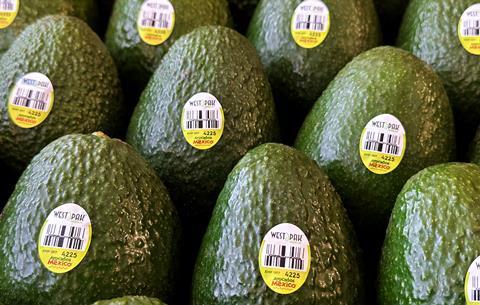 The programme was created by AFM to help shoppers more easily identify quality Mexican avocados.
West Pak's new PLU sticker features the company's branding along with the AFM logo with its signature Pantone colour.
"When Avocados From Mexico announced the PLU initiative to shippers, we jumped at the opportunity," exclaimed West Pak Avocado vice-president of sales and business development Joe Nava.
"I knew that AFM's brand recognition coupled with West Pak's quality and customer service was a natural fit," said Nava. "We're excited to be the first to bring the new co-branded PLU featuring the distinctive Avocados From Mexico glow to our customers that identify with premium avocados."
Avocados From Mexico partnered with the Pantone Color Institute to launch its official brand colour, Avocados From Mexico, earlier this year.
West Pak said that the new PLU was a "guarantee of premium avocados", and was available through summer for bulk fruit and bagged brands that offer Mexican avocados.
"This unique, limited-edition PLU is yet another value add and reason why retailers should partner with West Pak," Nava noted. "It's two premium brands coming together to present an avocado that retailers can stand behind.
"The new sticker is one more way we're proving that we're 100 per cent customer obsessed," he added. "Our innovative and avo-focused team is here as a resource to help retailers leverage the commissions to supersize their avocado programmes.
"The co-branded PLU with AFM is the first of many association collaborations, and we're excited to bring it to our customers."