Veg Education and Nutrition Australia collaborate to boost vegetable consumption and promote use of VegKit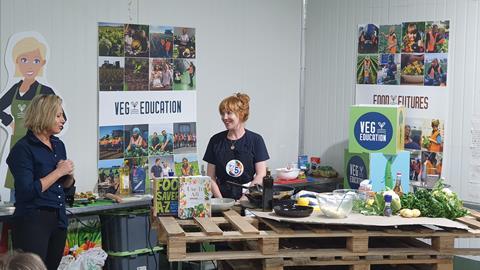 Nutrition Australia and Veg Education have partnered to respond to the challenge of lifting ailing vegetable consumption among Australian children with a new Veginfluencer campaign.
The Veginfluencer campaign aims to leverage and promote resources created by the VegKit project and present them in an interesting, engaging and contemporary way.
The VegKit project was a five-year project funded by Hort Innovation and delivered in collaboration between CSIRO, Nutrition Australia and Flinders University. It was designed to deliver tools and interventions for increasing children's vegetable intake.
Veg Education co-founder and director Catherine Velisha said growers would be front and centre as part of the campaign but the goal was to get everyone to become a Veginfluencer and promote vegetable consumption.
"The aim of the project is to gain market penetration through multiple channels – particularly social media – to maximise exposure and reach and get the VegKit resources being used to increase children's vegetable intake," said Velisha.
"What we're trying to do through a variety of different ways is speak to different cohorts of people to increase consumption, get them excited about careers in horticulture."
The launch was held during National Nutrition Week at Velisha Farms in Victoria and featured Alex Elliott-Howery, co-founder of Cornersmith cafes, who demonstrated how to effectively utilise all parts of a vegetable during cooking.
Nutrition Australia's Amber Kelaart said there was so much literature and research around vegetable consumption and VegKit was able to bring it together and turn it into resources that can be used to get people to eat more vegetables, particularly children.
"The focus was on child-based settings, the key places we can influence children outside of the home environment. When they're at school., when they're at day care centres, when they're at after school care programmes and holiday programmes these are ideal areas to influence what children eat," said Kelaart.
"As part of the project best practice guides were produced that can be taken by these settings and used to try and get kids to eat more vegetables."