Italy loves its food, but when it comes to avocados, it's not a market you could describe as ahead of the curve. Per-capita consumption remains far behind most other major European markets and, despite the recent emergence of domestic supply down in the south of the country, the chances of spotting anything but a cheaply sourced, imported green-skin variety on its supermarket shelves are pretty slim.
There are signs the situation may be changing, however. Luca Battaglio is one of a handful of Italians who know the global avocado market inside out, and he says there is great potential in the market for the fruit.
His Turin-based import company Battaglio has been sourcing the fruit from around the world for a number of years and, at the end of last year, it teamed up with a group called CI Tropical to create a major new source of avocado supply in Colombia's Valle del Cauca region.
For Battaglio, capitalising on Italy's market potential will depend on how well the category is managed and presented at the point of sale. "The Italian market is growing," he tells fresh focus avocado, "but if people could understand how to manage the category better, giving it more attention and more space, I think we would be in a much stronger position. Per-capita consumption in Italy is about 300g per annum, whereas this figure is more than 3kg in the US, 2kg in France, 1.5kg in the UK, 2.5kg in Scandinavia and so on. We are a long way from that. In Germany too, where four or five years ago they started this process, consumption has really exploded. Here, we are waiting for that moment."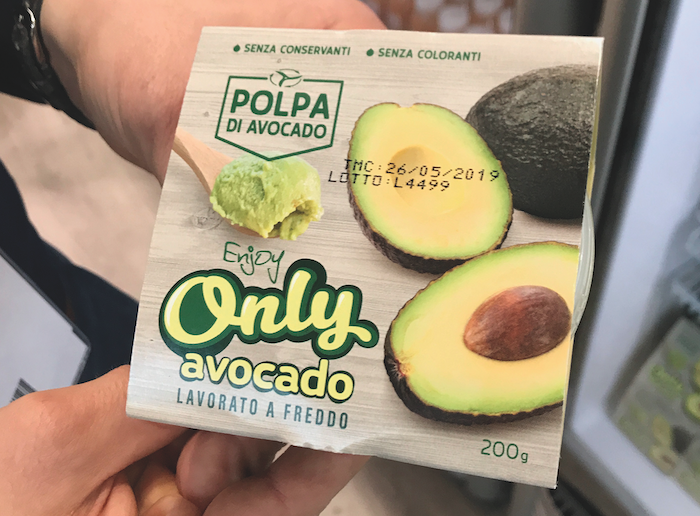 An emerging trend that looks likely to drive demand for avocados higher in Italy is convenience. At the recent Macfrut trade fair in Rimini, exotic fruit specialist Mc Garlet unveiled its new Only Avocado product, which consists of chilled avocado pieces sold without preservatives in a tub – ready to be used in dishes like guacamole or on toast. Another company, Bologna-based cooperative Consorzio Agribologna, has made avocado a key part of its Fresco Senso fresh-cut range, offering ready-prepared pieces of avocado with a wedge of lime.
Slow starters
But while the Italian market for avocados does appear to be growing, the impression in the business most have is that it could grow a lot faster. "The industry here is certainly a little bit too slow when it comes to sales and marketing and explaining to consumers what eating a good avocado is all about," Battaglio comments. One major challenge remains the fact that few supermarkets are willing to switch to the more expensive Hass variety, but for Battaglio there is a more fundamental reason to do with how the category is managed.
"Currently they don't need to dedicate new shelf space to exotic fruit or tell consumers about new products like avocados. But there could be a good opportunity, for example, to display avocados next to tomatoes instead of next to pineapples. They could tell consumers about the many different ways to eat the product and explain that it should not necessarily be considered as a fruit. In this sense, a lovely avocado display in store could help tell a story, which consumers need to discover new tastes and for their consumption habits to evolve."