In the past five years, US avocado consumption has grown significantly in lead up to the Cinco de Mayo celebrations
Avocados From Mexico (AFM), the US marketing arm of the Association of Producers and Exporter Packers of Avocado of Mexico (APEAM), has teamed up with other leading Mexican brands for this year's Cinco de Mayo celebration.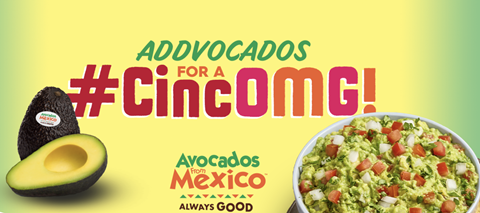 The 'CincOMG' campaign, which runs from 11 April to 9 May, features intense promotional activities in what remains the main market for Mexican avocados, taking more than 84 per cent of Michoacán's entire production volume.
Cinco de Mayo is the largest celebration of Mexicans in the US, commemorating the victory of Mexico over France in the Battle of Puebla on 5 May 1862.
According to Nielsen data, US avocado consumption in the four weeks prior to Cinco de Mayo has grown 27 per cent over the last five years. It is now the second largest consumption period for avocados and guacamole in the US after the Super Bowl.
AFM said its partnership with other iconic Mexican brands is fuelled by fun in-store displays, consumer savings, giveaways, digital and social activations to inspire shoppers to create delicious snacks and party recipes.
It includes the chance to win a box of select recipes that includes an avocado molcajete from Mexico, a tortilla warmer and a beer gift card.
The campaign also involves digital activations where users will be able to interact with AFM and the other brands through Instagram, Twitter and Facebook to get recipes around this important date.
"This promotion, as well as the others carried out throughout the season, will help our country to remain the main supplier of avocado to the US, thanks to the joint efforts of producers and packers associated with APEAM," AFM said.