Company is honoured for its innovation, business strategy, strategic vision and adaptation to market needs.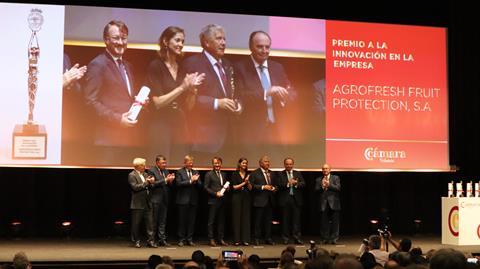 Post-harvest solutions specialist AgroFresh has received an Award for Innovation in Business granted by the Valencia Chamber of Commerce.
The awards recognise the contribution of five Valencian companies for their innovation, social commitment, internationalisation, business trajectory and excellence in the management model.
Julián Herráiz, general manager of AgroFresh Fruit Protection, received the award in the innovation category at a special event held on Valencia Business Night.
"Accepting this award is a dream come true, and we are very proud to be recognised by such an outstanding institution as the Valencia Chamber of Commerce, since it was in this city where we started our journey in post-harvest," he said.
"It is a pleasure to receive this award on behalf of the more than 90 AgroFresh employees in Spain. Service and innovation are the pillars on which we are based and the reason why customers trust us.
"All of our products, current and in the process of innovation, are designed with one purpose in mind: to help consumers around the world enjoy fruits and vegetables that stay fresh and taste great.
"At AgroFresh, we have been providing revolutionary solutions to the industry for more than 40 years, when we started in Valencia with Tecnidex Fruit Protection, founded by Manuel García-Portillo. This award serves as a driving force to continue our commitment to innovation, technology in agriculture and active listening."
The jury selected AgroFresh from a pool of more than 50 nominations, evaluating, among other characteristics, the company's innovative capacity, business strategy, strategic vision and adaptation to market needs, as well as its ability to collaborate with other companies or organisations in the development of R&D projects.
AgroFresh's suite of post-harvest solutions includes SmartFresh, widely used in the apple industry, as well as citrus solutions, such as detergents, disinfectants, coatings or equipment that help maintain fruit quality and improve the supply chain from field to home.
Recent innovations include VitaFresh Botanicals Life Select, a plant-based and certified organic coating to keep produce fresher for longer and reduce food loss and waste, and FreshCloud, a platform of digital tools for monitoring and analysing fruit quality from harvest and through storage.