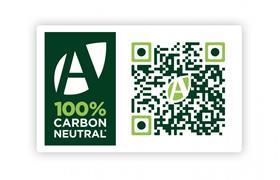 Azura Group has become the first tomato producer and supermarket supplier to achieve carbon neutrality throughout its operations, the Franco-Moroccan company announced this week.
Nearly 192,000 tonnes of CO2-equivalent will be offset each year, it said. 'This eco-responsible commitment will be identified by a specific logo on the packaging, for the attention of consumers,' the company revealed.
The initiative is in step with the group's long-term commitment to offer high-quality, accessible and environmentally friendly products.
'Since its creation in 1990, the Azura Group has adopted production processes that respect seasonality and benefit from the natural heat and light of the sun, without the need for any other energy source to heat the greenhouses,' the company stated. 'This is what allows Azura tomatoes to have a naturally low environmental footprint: the total greenhouse gas emissions of an Azura tomato (farm to table) are 1.26kg CO2e/kg of tomato.'
Since 2010, Azura has been measuring its environmental impact using the Life Cycle Assessment (LCA) method in order to identify concrete steps to improve its agricultural practices and reduce CO2 emissions by 20 per cent in ten years.
The LCA measures all inputs, from production (from the seed), via packaging (including the making of the packaging) to transportation, storage and conservation. 'The aim for the coming years is to continue to reduce CO2e emissions,' the company said, 'in line with the plan launched in 2010.'
Azura highlighted two of its offsetting projects in partnership with the firm Climate Partner: the construction of a wind farm in the Tangier-Tetouan region of Morocco, and a project in Peru that enables 400 families to earn a living from the cultivation of Brazil nuts while protecting 300,000ha of Amazonian rainforest in Tambopata.
The company is set to communicate its new commitments on packs of Azura-branded tomatoes with a '100% carbon neutral' logo from March 2021. A QR code will link to information on the two projects supported by Azura, the quantity of CO2e emissions offset and its actions to reduce its environmental footprint over more than a decade, including reducing plastic packaging, improving recycling of waste, launching Zero Pesticide Residue products and supporting local development through the Azura Foundation.