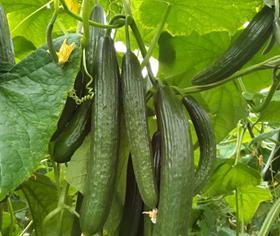 BASF's vegetable seeds business has announced that it has extended its partnership with Nature Source Improved Plants (NSIP).
According to the group, the collaboration focuses on four key segments within its cucumber, pepper, and tomato breeding programmes.
This involves the development and execution of breeding work-flows, combining NSIP's genomic selection toolbox and BASF's germplasm and breeding expertise.
'NSIP's experience in genomic selection across a variety of crops makes them an excellent candidate to complement our own internal expertise,' BASF stated. 'By working as an additional partner in the specified breeding segments, NSIP offers knowledge that will help us introduce desired traits more quickly.'
Under the terms of the multi-year agreement, NSIP will work closely with selected breeding teams, applying their bank of algorithms to improve data-driven decision making throughout the breeding and selection process.
"By applying these algorithms with additional phenotyping, our breeding teams will improve the output of our predictive breeding efforts," said Johan Warringa, head of R&D EMEA, vegetable seeds at BASF.
Predictive breeding brings together tools such as phenotyping, genomic selection, and statistics to help breeders make data driven predictions of which lines will perform best in a given situation.
"NSIP is excited to be providing both its expertise and advanced analytical tools in this collaboration to develop higher yielding, and higher quality vegetables for the benefit of farmers and consumers worldwide,' noted Dr Steve Tanksley, chief technology officer of NSIP.
"Of course, we are also working on genomic selection in-house, but NSIP brings important additional expertise and their unique operation research-based approach to breeding and statistical algorithms,' said Jan van den Berg, scouting and collaboration management, bioscience research, BASF. 'By partnering with NSIP, we are launching forward in several areas where they can apply their existing expertise and that allows us to better focus on other key areas with our own research."
A key component of the strategy for BASF's vegetable seeds R&D division is carefully selecting the best collaborations in order to stay on the cutting edge of research.
"We cannot do it alone," explained Andreas Sewing, vice-president R&D, vegetable seeds, BASF. "In order to tap into the best innovations, we must look outwards and bring expertise in where it can strengthen our own efforts. This is part of our R&D strategy, to strike the balance between internal experts in a very nuanced industry, with external partners, who can help us make big strides in specific sectors."