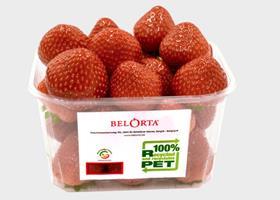 Belgian cooperative BelOrta is seeking to contribute to a circular economy with the launch of Tray2Tray punnets, which are made from recycled PET and are themselves 100 per cent recyclable.
Sales and marketing manager Jo Lambrecht commented: 'With this Tray2Tray concept, in which new punnets are made from used punnets, we contribute to a circular economy. We have been working with rPET as a raw material for four years, recycled from PET bottles and other PET packaging that consumers collect.'
BelOrta pointed out that Belgian consumers performed well when it came to sorting and collecting waste. The New Blue Bag in Belgium has also recently been designed for the collection of all packaging waste.
'Thanks to new techniques, developed by Fost Plus, we can now also sort these PET punnets and recycle them into flakes,' said Lambrecht. 'Later these can be reused as raw materials for the production of new packaging, such as for our strawberries and other berries. The cycle is closed."
Last week, the first Belgian strawberries were supplied in these new trays. According to BelOrta, this new strawberry punnet is one of the most sustainable pieces of packaging on the market.
'The replacement of PET by rPET includes a reduction of no less than 450 tonnes of CO2 emissions per year,' the cooperative stated.
'We try to avoid or reduce the use of packaging whenever possible,' said Lambrecht. 'But for sensitive and perishable products, well-chosen packaging is crucial in the fight against food waste. Various tests, including with strawberries and berries, have taught us that well thought-out packaging makes the difference. Less food waste reduces our ecological impact. In addition, as a raw material rPet has a very low impact compared to other materials."