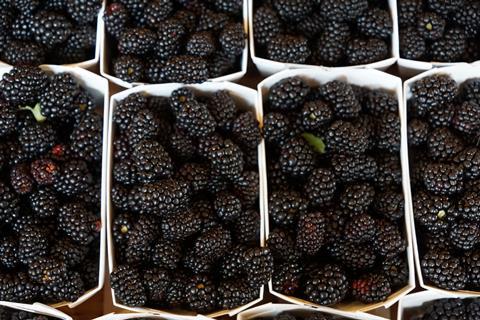 Blackberries are leading the charge when it comes to worldwide growth in demand for soft fruit, according to a new report due to be published by German research group AMI.
As overall trends for berry production, trade and consumption continue to rise, strawberries still account for majority of volume sold.
But AMI's analysis suggests that sales of blueberries, raspberries and, more recently, blackberries are the products showing greater acceleration both in terms of production and consumption.
In the meantime, the report notes, demand for redcurrants has shown only a modest increase, while sales of blackcurrants and gooseberries are at best stagnant.
"There are several reasons for the increase of berry production and consumption," a spokesperson for AMI comments.
"While a substantial part of the worldwide production is used for processing - mainly deep freezing, juice and jam - the main source of growth is a rising fresh consumption.
"This is also a reason for the stagnation in blackcurrant production, since they are almost never used as fresh fruit but mainly for juice and jelly."
Health claims continue to create plenty of incentive for consumers in many countries to eat berries – a trend that is especially pronounced in the US and the UK, but less so in continental Europe, AMI also noted.
The convenience of berries as a snack item has reportedly also boosted demand. "The suitability of berries for snacking – with no or little waste - is probably a strong point for berries everywhere," the spokesperson said.
"Besides, berries are also a perfect addition to breakfast cereals and yogurts, just fitting in modern diets. While other fruits have to be cut, berries are used as whole fruits, avoiding the industrial, processed image of fresh cut fruits."
In Germany, for example, sales of manufactured fruit yogurts have reportedly decreased, while sales of natural yogurts and berries are rising.
"People are just making their own fruit yogurt where they can control the amount of sugar added."
AMI's 2016 berry market report offers commentary on the most important consumer markets in the EU and the US, highlighting trends in worldwide supply and foreign trade figures.
For more information about the report's contents, see the list of selected tables and graphs, as well as two example graphics here.
To order the report please click here.
Further information about the international berry business will be available to delegates attending this year's Global Berry Congress, which takes place in Rotterdam on 14-16 March. For more details about the conference programme and to register, click here to visit the official GBC2016 website.