The marketer has laid out its towel early, as it encourages consumers in the country to save a spot for bananas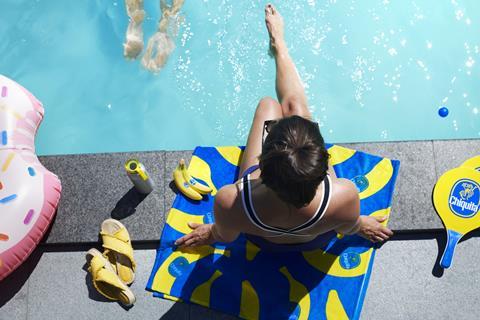 Chiquita has launched a major new marketing campaign for bananas in Germany, as it looks to convince consumers that the fruit is a great source of natural energy during the summer months.
From 27 June until 31 July, the company's 'Raus aus der Schale' ('Unpeel it') campaign will communicate the nutritional benefits of bananas to children and adults alike via sales outlets and its own marketing and social media channels.
It will also feature a competition to win one of 333 Chiquita-branded towels, and present banana-enhanced recipe ideas including a matcha smoothie, an iced chai latte, and a mocha protein shake.
"In our current campaign, we are putting our towels out for an active summer," commented Marc Speidel, Chiquita's director for Northern Europe. "The current summer promotion shows the added value of bananas in everyday life - from snacks to a quick smoothie."
He added: "Because the advantage of bananas is unique: whether green, yellow or brown – they get you ready for the summer on their own or as an ingredient."
As Chiquita points out, bananas are sodium-free and contain lots of nutritional goodness such as vitamins, fibre and minerals that can help reduce fatigue – an important advantage especially on hot days.