Marketer launches campaign in Germany to position fruit as healthy and versatile aid to learning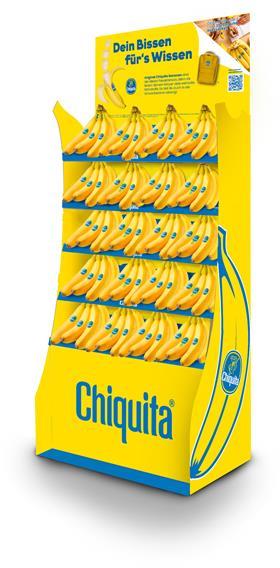 Chiquita wants school pupils in Germany to copy their classmates. That is, at least, when it comes to the regular consumption of bananas.
The company has just launched a new marketing campaign in Germany to promote the fruit to young consumers, as the nation's children prepare to head back to school in mid-August.
Under the slogan Dein Bissen für's Wissen (Your Bite for Knowledge), the campaign emphasises the versatility and nutritional content of bananas, and pitches them as the perfect breakfast ingredient or healthy snack.
Eye-catching displays in grocery stores and on the marketer's own social media channels will appear until the end of September, and feature a special competition to win one of 333 Chiquita-branded rucksacks.
"Children need the best conditions for the school day in order to be able to perform at their best," says Marc Speidel, Chiquita's director for Northern Europe. "A healthy diet plays an important role in this and Chiquita bananas, which are best in class in terms of their taste and natural handling, look good in every school bag. With the school campaign, we are showing how lunch boxes can be filled with variety and health and how children can have fun."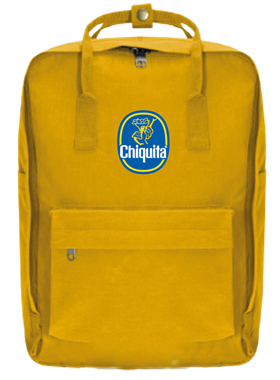 Food for thought
Studies cited by Chiquita show that bananas are an excellent source of potassium, manganese, vitamin C and fibre, and as such can help improve memory.
The fruit also contains vitamin B6 and a generous helping of magnesium, an important mineral that also supports brain function.
According to Chiquita, bananas are also good for the nervous system, because their amino acids tryptophan and tyrosine are proven to ensure the production of feel-good neurotransmitters serotonin and dopamine in the body.
Another amino acid in bananas called norepinephrine apparently helps children stay calm and focused.
Armed with that knowledge, Chiquita also wants school kids to know that bananas are an easy and healthy ingredient at breakfast time and also in recipes it describes as 'lunchbox compatible'.