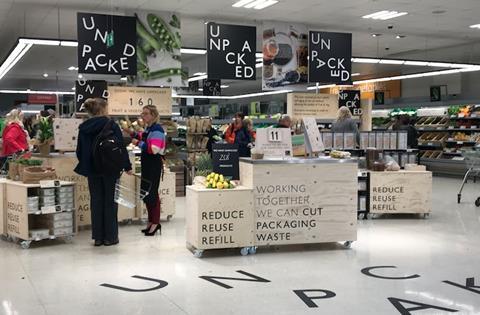 Was this a glimpse into the future of fresh produce retailing? Shelves filled with loose produce, colours bursting from all sides and hardly a plastic package in sight, the early June opening of a Waitrose Unpacked concept store on the outskirts of Oxford in south central England certainly seemed like a step into a better, more sustainable dimension. Yes, the upmarket British chain is hopping on a bandwagon, but it's a beautiful bandwagon, and I imagine there will be plenty of people who are happy to come along for the ride.
Something else struck me on my visit to the store during the trial's first week, and that was how much I enjoyed visiting the store. Being in a supermarket that offers more visually attractive displays and more ethically responsible purchases represents a welcome step back in the right direction for what has become a tired and uninspiring retail model. There was a veg kitchen too, with chefs on hand to show you how to prepare fresh vegetables in new and exciting ways. In short, this was a far more enjoyable experience than what's on offer at the tens of thousands of functional but increasingly soulless stores that British shoppers have become accustomed to in the past couple of decades.
That's not to say it was perfect, but if you leave aside the fact that the public will take some convincing to forego the convenience of sealed punnets or bagged salads, there is definitely a massive improvement in terms of the fresh produce department's visual impact. Waitrose claims the concept offers 160 loose fruit and vegetable lines – the largest number of any national supermarket – and to the untrained eye that certainly made a difference to how the store looked. Who knew so much natural, vibrant colour lay within those plastic containers?
There's also a lot to be said for retailers making this kind of bold leap into a more environmentally sustainable future. At Waitrose Unpacked, much of what is now seen as unnecessary packaging – adding up to thousands of tonnes a year, according to the group – had been replaced by piles of loose fruit and vegetables. For items like apples, potatoes and carrots, the transfer to larger returnable crates seemed relatively straightforward; for those more delicate products like blueberries and tomatoes, meanwhile, shoppers were presented with open cardboard punnets and invited to help themselves to cardboard lids nearby. Keeping the product visible on shelves will remain a priority for supermarkets, but this showed that a little 'out of the box' thinking could help to reduce their dependency on transparent plastics and in fact give the department a much fresher, more natural feel.
Plastic revolution
Waitrose's 11-week trial continues until 18 August, when it is hoped enough of its customers will have shown a willingness to change the way they shop for the better. It's not just on fruit and veg where the group is testing the public's ability to wean itself off unnecessary packaging: the Oxford trial also includes refill stations for staples like pasta, rice and cereals, as well as frozen fruit, beer, wine, washing-up liquid, detergent and of course coffee – a long-established perk for Waitrose customers but one that is now offered on condition they use a reusable cup.
Elsewhere in Europe's food retail business, there have been several similarly promising developments. Since the start of the year, UK supermarket operator Morrisons has committed to creating plastic-free fruit and veg areas in its stores, Dutch group Albert Heijn has launched its own plastic-free produce trial, and Germany's Aldi Nord and Aldi Süd discount chains have also undertaken to reduce the amount of plastic they use, starting with shrink-wrapped cucumbers.
"We are determined to build on the work we've already done to reduce packaging – and this test will take our efforts to a whole new level as we help the growing number of customers who want to shop in a more sustainable way," commented Waitrose's head of CSR Tor Harris. "This test has huge potential to shape how people might shop with us in the future so it will be fascinating to see which concepts our customers have an appetite for. We know we're not perfect and have more to do, but we believe this is an innovative way to achieve something different."