The Egyptian grower-exporter is confident of the continued potential of Egyptian produce on the world stage, expanding production and investing in packing and juicing facilities
Egyptian producer El Teriak Farm believes the reputation of Egyptian produce is moving in the right direction, with customers increasingly aware of which companies are farmers and which are traders, according to vice president Beshoy Teriak. "We are farmers," he says, "committed to growing the highest quality."
The company specialises in growing Spunta variety potatoes, cultivating and exporting 10,000 tonnes a year within the EU. "We use the most advanced agricultural techniques in all stages of the potato production process to ensure the cultivation of premium quality," the company states. "We are considered one of the top potato exporters in Egypt, pioneers in both the cultivation and packing of potatoes."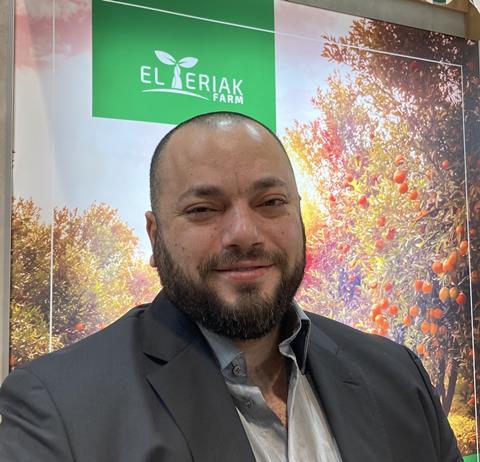 Founded by the Teriak family 30 years ago, the farm has developed into one of the most technologically advanced in Egypt, including the highest standards of quality control and automation.
The company is expanding its production in 2022/23, with 4,000ha of new varieties of fruit and vegetables. "Our cultivation spreads across the Nubaria, Wadi El Natrun and El Wahaat area in a mineral rich soil covering a wide range of production of premium fruits and vegetables."
In addition to cultivation, the company is also in the process of developing its own packhouses, as well as a juice production and packaging line to create added value for its products.
Such a strategy will also help to reduce waste, especially with weather conditions becoming increasingly unpredictable. "Due to climate change, everything is delayed," says Teriak. "A lot of crops are ripening very late, like lemons, pomegranates and oranges. So our export window is changing. It's not only us, it's also the rest of the world. The windows that were known for all crops are shifting. Maybe this will be a good thing, creating new supply opportunities, or maybe there will be a problem with an overflow of certain products."
More immediate, however, are rising costs, both for companies and consumers. "Packaging costs have jumped this year," says Teriak, "which is an additional cost that we didn't originally have in mind. Shipping and logistics costs are also fluctuating, while energy prices are soaring. Thankfully we have the sun all year round, so we do not rely on greenhouses.
"And consumers are also suffering the effects of inflation, which may affect sales. You can never predict what will happen. Some fruits are considered a luxury, some are essentials. We export a lot of sweet potatoes and oranges, which are kind of staples now. Other products like dates are seen more as a luxury."