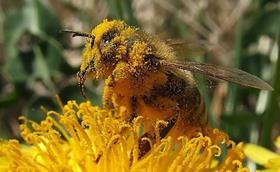 To mark World Bee Day, Dutch organic specialist Eosta is highlighting its efforts to boost biodiversity around its headquarters in Waddinxveen in order to set a good example and to show solidarity with its organic growers around the world.
The company is using native wildflower seeds to create a sea of flowers around its offices in order to attract wild bees, honey bees, bumblebees, butterflies and other pollinators.
A nearby hill, built using circular economy principles, was last week renamed 'Honey Hill' after it was sown with 40-50 varieties of native flower seeds.
Robert van Melle, Eosta's product manager for citrus and grapes, was the one behind the initiative.
'We are asking our organic growers all over the world to support biodiversity through the Sustainability Flower," he explained. "But what are we doing ourselves? We have now enriched the area around our office and all the staff have been given some seeds to plant at home. Bee the change you want to see in the world!'
The move sees Eosta follow the example of one of its citrus growers, Daniel Silva, who grows wild herbs between his lemon trees in order to attract wild bees and other favourable insects.
'I absolutely love weeds, or wild plants and flowers if you prefer," Silva said. "We don't need to set up any bee hives in the orchard because the insects and wild bees come by choice.'
The initiative is a natural continuation of Eosta's sustainability strategy. In 2012, Eosta distributed 400,000 bags of flower seeds, in cooperation with Bionext and the Dutch Bijenstichting (Foundation for Bees), as part of its 'Bees love organic' campaign.
'Bees may be tiny creatures, but as pollinators they are critical to the early stages of our organic fruit and vegetables," said CEO Volkert Engelsman. "Since 1990, our company has opted for 100-per-cent organic production to protect biodiversity. We do this on a large scale, but also on a small scale, right next to our own office. Since we started we've already spotted a kingfisher, marter, common teals, greylag geese and all kinds of birds of prey.'
Eosta followed the advice of Deborah Post of Netherlands-based Honey Highway, who presented to the company and selected a native mix of seeds suited to the soil type and region.
Half of the 360 wild bee species in the Netherlands are presently threatened with extinction, she warned.
'There are far too few wild flowers in the Netherlands because everything is perennial ryegrass used for the production of cow's milk," she said. "Wild bees get their pollen from specific species of wild flower. With a mix of regional, native flower seeds, you can increase biodiversity.'