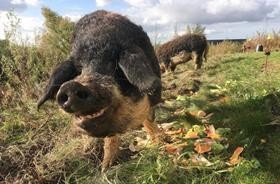 Dutch organic trader Eosta has announced that it is launching its own online trade fair, the 'MEATless Meeting Place: starring François and Antoinette', to ensure stable supplies during the Covid-19 pandemic, which has boosted demand for organics.
With live trade fairs and international meetings currently on hold, Eosta said that its globally accessible platform would allow "growers, buyers and product experts" to meet each other 24/7.
Live webcams are set to offer a real-time view of Eosta's workfloor and of fruit ripening in orchards across the world, including mangoes and passionfruit from ProNatur in Peru or Sekem beans in Egypt.
The platform will enable live conversations and provide information on Eosta's product lines, new kinds of packaging and sustainability campaigns.
"And animal lovers can get acquainted with François and Antoinette," the company stated, referring to its pigs, "who are responsible for our waste-free canteen policy."
"It couldn't be more sustainable,' said CEO Volkert Engelsman. "When we meet online, we save tens of thousands of miles in the air and on the road."
For Engelsman, sustainability is essential if we are to counter substantial threats including pandemics and climate change.
"We really need to act in a more animal-friendly, climate-friendly, planet-friendly manner," he said. "The new normal is human and planet-inclusive agriculture. There is little room left for monoculture, intensive livestock farming or the pointless transporting of animals and people. Less meat, more fruit and vegetables: healthier, more efficient to feed the world and better for our children. Let's meet, not meat!'