Peter Stedman, director of sustainability at Chiquita, considers the climate challenge in the context of wider sustainability efforts
The intense heatwave that pushed temperatures to unprecedented highs and caused frightening wildfires in parts of Europe this week might have given way to some welcome cooler weather, but discussions about action to combat climate change remain heated and intense.
How should fresh produce companies respond, if they are to future-proof their own businesses? "I don't think there's anything we can do to fix extreme weather events," says Peter Stedman, who since the start of 2022 has been director of sustainability at the world's largest banana marketer, Chiquita. "But we can create resilience, both within ourselves as a producer and within the local communities. We can also prepare and provide additional protection by managing our farmland."
The climate is not the only thing making suppliers hot under the collar. Russia's invasion of Ukraine has placed huge strain on the availability of fertiliser, a vital resource for the international fresh produce business. So it's perhaps no surprise that many of the world's leading fruit and vegetable suppliers want to reduce and even eliminate their dependency on this particular inputs – especially as the global economy faces up to serious pressures in the form of rising inflation and costs.
Stedman says the company is determined to identify and introduce alternatives to fertilisers over the coming four years. A single crate of Chiquita bananas currently costs 12 kg of carbon dioxide, according to the group, the equivalent of around 50g per banana.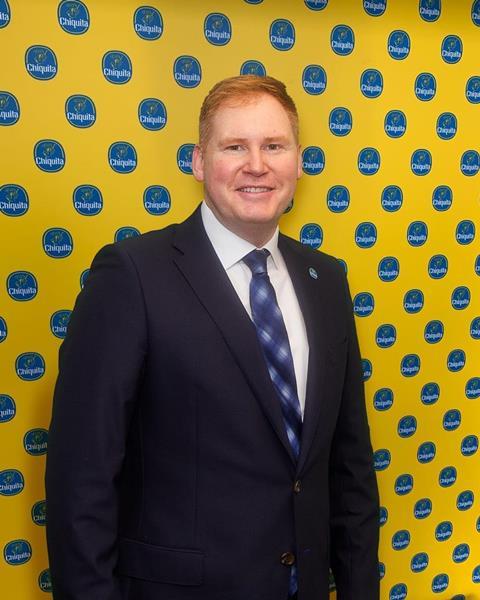 "[Our] 30BY30 goal is to avoid 30,000 tonnes of CO2," Stedman explains. "The vast majority of our emissions come from fertilisers. How we can reduce these emissions without compromising on the yield and quality of the bananas is our most exciting challenge."
Elsewhere, Chiquita's switch to renewable energy looks set to gather momentum. "Renewable energies are another focus point, especially in Honduras and Guatemala," says Stedman. "Energy from solar cells and anaerobic bioreactors offer great opportunities."
The other big challenge, of course, is to win and retain the support of consumers. "The challenge for us is to make sure we engage the customer by giving them every reason to continue supporting the brand," Stedman admits. "Ultimately, we have no control over the retail price consumers pay. All we can do is make sure customers appreciate what they have in front of them."
He adds: "Chiquita recognises climate change as an imminent threat to banana production and the planet, and is making major efforts to reduce energy consumption through the use of green solar or wind power, biofuels or electric vehicles, and reduced nitrogen emissions from fertiliser use."