The presence of Polish apples on Carrefour shelves is being taken by the French sector as a dismissal of recent demands for more sustainable pricing from retailers
Given the severe crisis currently being experienced in the French apple sector, French apple association ANPP has taken umbrage at the move by French retailer Carrefour to place Polish apples on the shelves.
Last month, French growers were uprooting their own apple trees in protest at unsustainable pricing, demanding that retailers revalue the fruit by €0.20/kg.
According to ANPP, the Carrefour brand has dismissed the call, leaving growers feeling "scandalised". The association is now calling on the management of Carrefour to stop what it terms "unfair" imports.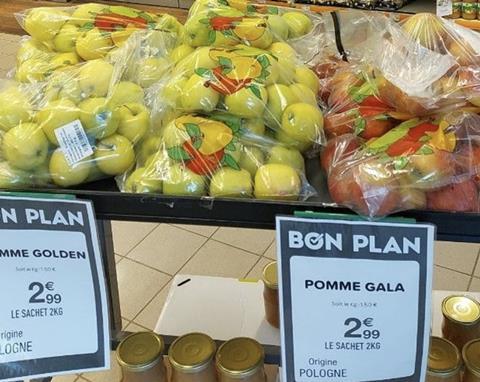 "While French apple growers are facing an unprecedented increase in charges and a very difficult economic situation, they called on retailers in mid-January to play ball and to revalue the purchase price by €0.20/kg to enable them to live from their profession," ANPP stated on LinkedIn.
"When you know Carrefour's requirements vis-à-vis French producers, the specifications, the "agro-ecological sectors", the alleged support for French origin, it is clear that these fine words are variable," the association continued. "Consumers must wonder about Carrefour's requirements for the production methods of Polish apples."
Ironically, ANPP continued, a 2kg bag of Polish Golden or Gala is being sold at €2.99, "more expensive than the price of a 2kg bag of French apples in most other stores".
According to ANPP, Carrefour buys Polish apples at around half the price of French apples. "A good way for Carrefour to inflate its margins and, incidentally, to take consumers and producers for fools," it stated.