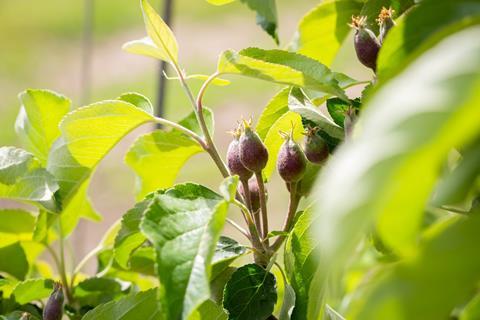 Apple producers in Germany are apparently warming to the idea of planting more Pinova and selling it under the Evelina brand as they face up to increasingly challenging growing conditions.
Marketing cooperative Landgard revealed this week that one of its major grower members, Rhineland-based company Sonntag, has planted around 5,000 new Pinova trees in the past few days.
According to the group, Sonntag is among ten major Landgard producers that have planted a total of 18ha with the Evelina variety in the Rhineland since the project got underway in spring 2019. It plans to put a further 2,500 trees into the ground in 2021.
Plans for a major push on those regionally grown apples are already in place for the 2022/23 season.
"Through the cooperation agreement with Evelina Germany, Landgard will continuously expand the marketing of the Evelina apples in the west [of the country],' comments Thomas Schlich, managing director of Landgard Fruit & Vegetables. "In the next few years we want to expand the production together with our growers to at least 75ha through further planting.'
Growers are said to be pleased with how resistant the new trees are to potential threats like frost and hail.
'The trees reach heights of between 2.4 and 3.4 metres and are less susceptible to late night frosts, as appeared for example in large parts of Germany in the last week," explains Matthias Sonntag.
"The colour of the fruit is less affected by hail nets, which is why Evelina's beautiful red appearance appeals to fruit lovers at first sight. In addition, the apples impress with their crisp flesh and a particularly sweet, fresh taste. "
High quality and good storage potential means the fruit can be marketed well into the spring.
Evelina Germany is preparing to support the new crops through extensive marketing and advertising activities, including advertisements on television and social media.
In particular, it plans to use the slogan 'Evelina, surprisingly apple!' to target younger consumers, who they believe will be especially enthusiastic about the aromatic variety.
Below: Matthias Sonntag and Thomas Schlich, managing director of Landgard Fruit and Vegetables (Photo:Lina Nikelowski)