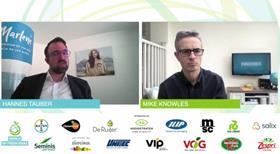 In a discussion dedicated to 'Marketing Inspiration', viewers of last week's World Of Fresh Ideas show got to hear how brand marketers are looking to build closer connections with consumers and customers.
Hannes Tauber of South Tyrol apple cooperative Vog said it was important to find new ways to interact with consumers.
To celebrate 25 years of the Marlene apple brand, Vog launched an art contest aimed at consumers, asking them to submit pieces of art that illustrated what Marlene meant to them.
Out of 6,000 entries, 25 were awarded trips to South Tyrol, Tauber said, with the final winner's artwork now being used on all Marlene packaging, at point of sale and in all TV ads.
'We are now creating a small art gallery to tell the whole story of the brand,' he explained.
Benjamin Laimer of Italian apple cooperative VIP talked about presenting apples as you would a fine wine.
'We don't think consumers know about all the new varieties available,' he said. 'Did you know apples can contain up to 300 different flavours?'
VIP decided to explain these new varieties to consumers through a new online platform, allowing them to discover and explore the different tastes of all the cooperative's apple varieties.
World Of Fresh Ideas also heard from Camille Herouard of Star Fruits in France and Shaz Rehman of Popular Produce in the UK about the colourful Metis range of plums.
Rehman said there were four unique flavour profiles for Metis plums. 'We've branded them Oxy Solar, Sunset Sky, Safari Star and Dark Moon, and the beauty of them all is they have their own different personalities, look-wise and flavour-wise, which creates a fun, exciting and vibrant offer on the shelves of any supermarket,' he explained. 'We also have a new addition this year, a yellow-skinned, yellow-flesh variety called Sunny Day.'
'There is a Metis for everyone,' said Herouard. 'Most people who buy plums are older, so this is a way of creating more demand for plums using these new varieties that are innovative, more colourful and easier to eat because they are firm as well as juicy and sweet.'