Next month's GreenTech Amsterdam exhibition shines a spotlight on the latest sustainable innovations in the business with its Innovation Award and Concept Award
The nominees for the GreenTech Innovation Awards 2022, the winners of which will be announced at the fifth GreenTech Amsterdam on 14-16 June, have been selected.
Liselotte de Vries, chairperson of the jury, commented: "This year we received submissions with a wide variety, which is exciting to see after the past challenging years. As a jury, we specifically looked at biological, production and digitisation technologies. A selection of these are nominated for the Innovation and Concept awards."
The Concept Award for the most promising new idea features two nominees, BioBest for its Trap-Eye pest monitoring system, and Certhon for its Gronos autonomous indoor farming system.
The Innovation Award for the most revolutionary idea has three nominees: BioBest with its Micromus-System, Let's Grow with its HortiFootprint Calculator, and Organifarms with its Berry harvesting robot for strawberries.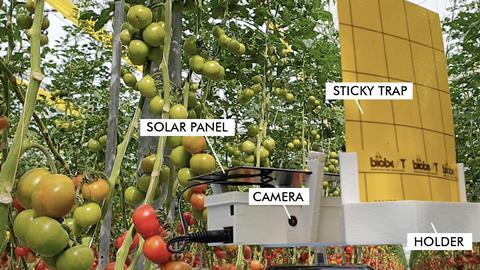 The contenders:
Concept Award
BioBest's Trap-Eye fully automates sticky trap monitoring with low-cost cameras. It establishes a wireless computer vision network of 40 units/ha. that automatically gathers pictures on which both pests and beneficial insects are counted by our artificial neural network. Trap-Eye offers cost-efficient, daily, accurate and high-density scouting input to customise IPM programs without leaving your armchair.
Certhon's Gronos is an autonomous Indoor Farming system in which tomatoes, and other crops, can grow optimally. The tomato plants have been modified to grow to the ideal, shorter height and are ready for harvest in just 15 weeks. The Gronos system creates the perfect environment for the crop, leading to a higher and consistent yield of tasty tomatoes year-round, without need for pesticides.
Innovation Award
BioBest (Micromus-System) - The brown lacewing Micromus angulatus feeds on all common aphid species found in protected crops such as vegetables, soft fruit, medicinal cannabis and ornamental crops.
Let's Grow (The HortiFootprint Calculator) - Developed by MPS and LetsGrow.com, the HortiFootprint Calculator is an innovative software tool that measures the carbon footprint of horticultural production and helps growers to make more sustainable choices.
Organifarms (Berry) - This harvesting robot for strawberries includes image recognition software for the detection of position, ripeness and quality of the fruit. Berry can detect the exact degree of ripeness of each fruit, harvest them safely and place them directly into punnets where there are weighed and ready for sale.