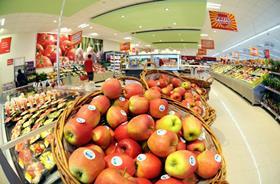 German retailer Rewe Group and fresh produce giant Greenyard have announced the signing of a letter of intent, with a view to expanding their partnership in the German market into a 'long-term, vertically integrated and transparent partnership in fresh fruit and vegetables' – one that is facilitated by its own dedicated operating unit.
According to the joint press release, the move marks the next step in Greenyard's customer-oriented strategy of implementing tailor-made partnership models, and also illustrates the group's desire to sustainably cooperate with its customers.
The partnership is designed to optimise and share resources in the supply chain of various product categories.
By improving efficiencies and capacity utilisation, the extended cooperation aims to realise sustainable and profitable growth for all parties in the chain, the groups noted.
The partnership involves both companies being committed to continuously bundling certain product flows into the dedicated unit.
Added value services, such as the ripening of fresh produce, will be provided by Greenyard, with the agreement emphasising the importance of the fruit and vegetable category for Rewe, and the shortening of the supply chain.
According to the statement, both groups are convinced that the cooperation optimally positions them for 'the fruit and vegetable retail market of the future'.
"Rewe Group and Greenyard can look back on a long and successful relationship,' said Eugenio Guidoccio, managing director ultra fresh (fruit and vegetables) at Rewe. 'With today's letter of intent, we are defining another common milestone in our fruit and vegetables business. I am convinced that this intensified partnership can make us both more efficient and thus more successful in offering the highest quality fresh produce to our consumers."
Hein Deprez, co-CEO of Greenyard, explained: 'This letter of intent marks the start of the implementation in one of our largest markets of the partnership model, which has already been successfully deployed in the Netherlands, Belgium and the UK.
'The partnership model responds to the changing consumer and customer's requirements and needs,' he added. 'Not only will the intensified cooperation have a positive impact on the entire supply chain, it also marks an acceleration in our company's shift towards increased sustainability of our business model.'