The increase in numbers attending this month's GreenTech exhibition demonstrates the rising influence of sustainable technologies in fresh produce
Visitor numbers to the GreenTech exhibition at RAI Amsterdam grew by 7 per cent this year to 11,500, demonstrating a growing interest in greenhouse technology, according to the organisers.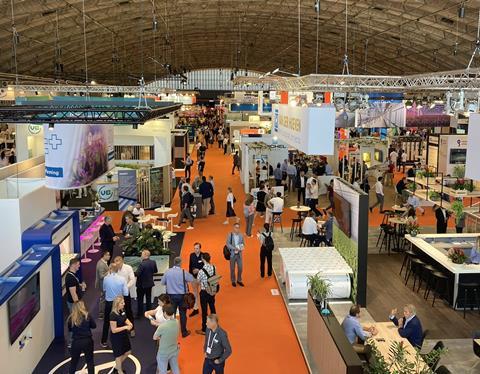 Professionals attending the event hailed from 128 countries, led by Germany, China, the UK, Republic of Korea and the Netherlands.
During the three days, three stages featured over 100 conference sessions covering various topics, including the global water challenge, smart agriculture, autonomous growing, vertical farming, AI and robotics, in addition to sub-events such as Meet the Expert.
Mariska Dreschler, director horticulture at GreenTech Global, commented: "GreenTech is created as the home base for the worldwide horticulture community. Visionary minds and groundbreaking technologies that will shape the future of sustainable food production came together.
The exhibition hummed with automated packers and robotic pickers, as vertical farms glowed bright.
"Vertical farms are very interesting because they use less water, which in many parts of the world is scarce," said Paul van Ruiten, business accelerator at Siemens. "You can grow a lot more in the same area and you don't have to use any pesticides or herbicides, so it's good for costs and for health.
"A customer in Dubai uses Siemens technology to control the lighting and the environment inside the greenhouse, allowing them to grow fruit and vegetables all year round with a higher yield. In the UK, there are growing investment opportunities for vertical farms, as the land is needed for housing, but there are also big food security requirements."
According to Marcella Silva, key account manager at French lighting specialist Signify, high energy costs have had a big effect on new installations for greenhouses over the past year.
"Everyone wants to instal and to build more, but they're waiting," she said. "No one wants to take the risk right now. For us the UK is an even more important market after Brexit, as they may be thinking, let's try to produce more here and guarantee that we have no empty shelves."
With availability of labour a major issue at the moment, Michel Van Reenen of Crux Agribotics said that its machines' ability to replace several people to do the job of packing produce into crates and containers is a big advantage.
"It depends on the number of robots used," he said. "Typically we use seven, eight or nine robots, allowing a saving of around 12-14 people. Right now, we're focusing on pointed peppers, long cucumbers, mini-cucumbers, beef tomatoes and chicory. Our system chooses the perfect combination of, for example, peppers to match the target weight of the pack. It is very difficult for a human to estimate the weight of one pepper. Our customers get paid for the 200g that needs to be in one pack, so when 280g or 300g goes in, that's a big giveaway weight. We're trying to reduce that giveaway weight."
Organifarms showed off its robotic strawberry picker, which is apparently approaching its target picking rate of 8.5-10kg of strawberries an hour.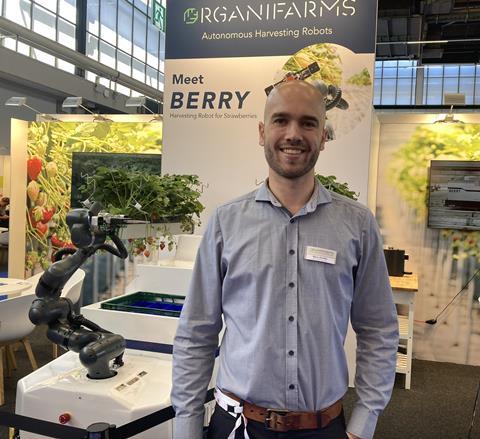 "We are targeting 8.5-10kg per hour, which would be the same volume over 24 hours as a human doing a day's shift," said CSO and co-founder Mario Schäfer. "The robot can work in the dark and requires no time for charging thanks to its replaceable battery. We are increasing the speed to get to the level that we want. We hope to meet our targets in the autumn, and then the product will be sold and delivered to customers.
The company also plans to move into tomatoes, cucumbers and bell peppers. "In the next five to ten years, it will be important for growers to adapt their processes a little bit to integrate robots in their greenhouses, because there will always be a mix of robots and people, and we need to make sure that they can work together," said Schäfer.
"Growers, investors and policy makers were eager to discover, absorb knowledge and connect with each other," concluded GreenTech's Dreschler. "Let's continue to build upon this success and drive the horticulture industry even further forward."
The next edition of GreenTech Amsterdam will be held on 11-13 June 2024 at RAI Amsterdam.