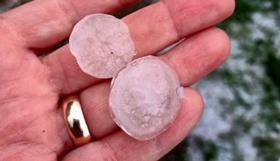 Hundreds of hectares of apple production in Italy's Val di Non region have been hit by a violent hailstorm, which unexpectedly struck an area of Trentino on Thursday, 22 July.
According to a report by Italiafruit News, the unusually timed storm struck several areas in the region, and caused "considerable damage" to around 500-600ha of apple trees.
In some places, the report suggested, even anti-hail nets were not strong enough to protect the fruit.
The hailstorm's unusual timing raises new concerns about the future viability of orchards with insured values of many millions of euros.
'We must see how events of this kind appear more and more frequent and intense, with damage also in terms of quality and systems and effects that will also have repercussions on the next few years', commented Giulia Zanotelli, Trento's local councillor for agriculture.
Italiafruit noted that about 95 per cent of Trentino apple growers, as well as some packing facilities, are insured against damage from bad weather.