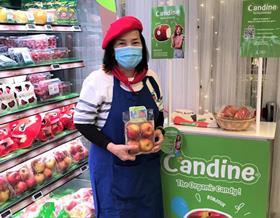 French exporter Blue Whale is back on the export scene, according to Pascal Marrocq, the company's new export manager for Asia, with the first containers already heading to markets in Asia, the Middle East and South America at the end of August.
"This season, our total volume is expected to reach 250,000 tonnes, similar to last season," said Marrocq."Our Gala harvest started in late July with the new early-crunch Gala and we have an exceptional colouration due to the cooler summer. We also observed a greater volume of smaller sizes. Overall, the crop looks in great condition for a good season."
One objective for Asia is to continue the development of new varieties, which are growing in volume, said Marrocq. "Candine, which is exclusive to Blue Whale, is our spearhead for Asia," he explained. "This variety has been recognised in multiple countries for its sweet taste and crunchiness, making it ideal for Asian taste buds."
The company also plans to continue with the development of its organic range, comprised of Pixie and Candine. "Pixie is an early organic variety and has been recognised for its unique flavour, juiciness and skin quality," said Marrocq. "As the aesthetic of apples is very important in Asia, we chose for our organic export range some varieties which are naturally resistant to diseases and also have a great taste."
Blue Whale is also innovating in its cultivation techniques to grow apples in the most sustainable way for the environment and in the healthiest way for consumers.
"Despite being already officially recognised as 'eco-friendly orchards', our growers chose to go further to attain the "High Environmental Value" (HVE) label," said Marrocq. "This French certification attests to the company's commitment to the ecological transition and responsible agriculture. Today, we already have more than 6,500ha labeled 'HVE'."
The main challenge for Blue Whale this season is logistics. "There is a lack of reefers, and prices have gone up," revealed Marrocq. "Also, multiple ports are facing congestion, which adds another difficulty to the planning stage. More than ever, anticipation is key. This season, our whole team is mobilised to take on the challenge and provide the best service we can to all our clients. We are ready for this new season with lots of good apples, both for Asian consumers and the environment."