The company has developed a range of varieties with IR resistance for different segments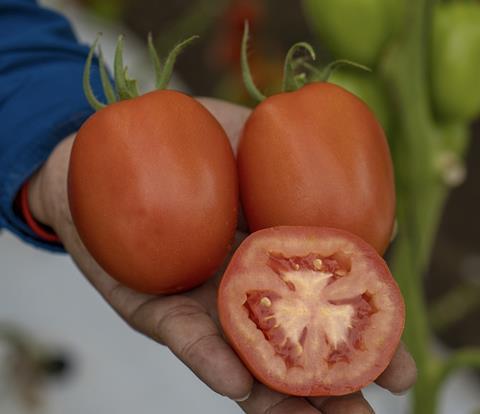 HM Clause is to launch its first tomatoes with resistance to Tomato Brown Rugose Fruit Virus (ToBRFV).
The first two Saladette varieties will be unveiled at Mexico's Agroalimentnaria Guanajuato in November, followed in 2023 by other varieties in markets including Italy, where a group of cherry and cluster-type ToBRFV resistant varieties are currently being trialled on a large scale. Validation trials are also in progress in Spain and the Middle East where ToBRFV infection has been confirmed.
"In the last years, HM Clause has been working in developing a pipeline with IR resistance to ToBRFV, focusing on different tomato segments like Saladette, cherry, round loose and specialities," said Jose Arauz, the company's tomato marketing portfolio lead.
"Thanks to our elite germplasm and R&D resources, we will be able to deliver value to growers with varieties that provide high agronomic performance and an effective IR resistance to ToBRFV.
"Our ambition is to deliver a proven solution to our customers without compromising on any of our tomato variety quality attributes."
ToBRFV is a highly virulent very aggressive virus that can cause severe infection on tomatoes. It was first discovered in late 2014 in Israel and since then has spread to Jordan and then to Mexico. It has now been identified in multiple countries worldwide.
After ToBRFV disease was discovered, a very active search for resistance sources was immediately initiated. HM Clause, through Limagrain upstream research, contributed to a network of internal and external collaborative discovery projects on ToBRFV using different approaches. This resulted in Limagrain being the first company to file a patent on ToBRFV resistance in tomato in 2017.
The first generation of tomato hybrids resistant to ToBRFV are already being sold. Limagrain discovery programmes continue to work intensively to find resistances against potential emergent more aggressive forms of this devastating virus.
While looking for resistance sources, HM Clause closely collaborates with its customers to help them contain the virus propagation. The company supports farmers in detecting the virus and controlling further spread and crop loss. It also provides its customers with enhanced prophylactic measures to prevent contamination and supplies its Indeterminate Tomato Portfolio with GSPP seeds.
"More than ever, HM Clause is proving its tomato know-how and strengthening its leadership and its close link with growers by providing them with innovative and concrete solutions to enable them to improve the quality of their production in a sustainable way," the company said.