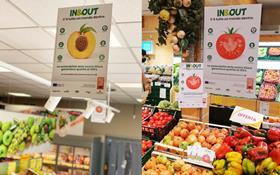 A three-year project to promote the quality, healthiness and sustainability of European fruit and vegetables has reported good results for its opening 12-month campaign.
In&Out was set up by Italian fresh produce giant Apo Conerpo with financial backing from the European Commission and began operating in earnest in late 2020.
"The balance of the first year of the project can only be positive," commented Apo Conerpo president Davide Vernocchi. "The start was certainly made more difficult by the pandemic but the project saw a real surge in activity in the months of the summer just ended."
That activity included more than 3,400 promotional days in major retail outlets in Italy, Austria and Denmark.
A total of 240 stores belonging to eight different chains took part in Italy. Those retailers were Bennet, Conad, Coop, Arena and IN'S.
Targeted activities also took place in a further 100 stores belonging to the Bilka and Føtex chains in Denmark.
Final third
Depending on what happens as far as Covid-related restrictions are concerned, further initiatives are planned for the project's second year.
For the coming months, over 5,000 days of initiatives are scheduled in more than 500 points of sale, starting in Italy, Denmark and Austria.
"Soon we will start media activity that will deepen and illustrate the commitment of European fruit and vegetables in terms of conscious agriculture, respect for the environment, circular economy, safety and traceability, as well as enhancing the nutritional aspects and the unique characteristics of our fruit and vegetables," Vernocchi continued.
"We will do this by showing the consumer the places where our excellent products are born, grown and are processed, with the true faces of our producers and all the people who work along the supply chain, showing their commitment and telling through videos full of suggestions and emotions, the path from the field to the table: the first clips are already available on the official In & out website."
Healthy competition
The In&Out project's recent 'Fill up on vitamins' competition was also deemed a success.
"With this initiative we have collected over 15,000 opinion questionnaires in the period from 1 April to 31 August 2021," Vernocchi added.
"A relevant and segmented audience of consumers, from which we drew the lucky winners of mixers to make tasty and healthy fruit- and vegetable-based drinks".