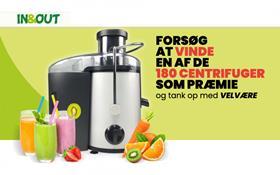 In&Out, the consumer marketing project organised by Italian fresh produce giant Apo Conerpo and co-funded by the European Community, has made its debut in Denmark with over 600 days' worth of promotional activities during August.
The Danish section of the In&Out's European tour represents one-third of the overall project, which involves targeted initiatives in Italy, Austria and Denmark until 2023.
"After a start that was heavily complicated by the pandemic, In&Out has officially made its entry in Denmark as well," commented Davide Vernocchi, president of Apo Conerpo.
"In this first phase, our promotional activities went ahead in 100 stores of the Bilka and føtex retail chains, located throughout the Scandinavian country, reaching thousands of consumers who pass through the stores of these two important large-scale retail brands every day."
Shoppers were given information and promotional materials that highlighted the benefits of European fruit and vegetables.
"Sustainability, traceability and safety," added Vernocchi, "but also our commitment as a growers' organisation cooperative in promoting the integrated production model among our farming members: a commitment to reducing the use of chemicals, to applying methods with a low environmental impact in order to obtain high-quality crops without wasting water, to preserve the soil, to favour seasonal products, to fight climate change, and striving to guarantee, at the same time, an adequate income for growers."
At the forefront of In&Out's Danish activities are the Bilka and Føtex chains.
Bilka is a chain of hypermarkets with a long tradition in Denmark. It opened its first store in 1970 in Tilst, in the suburbs of Aarhus, the city with the second-largest population in the country.
Founded by Herman Sailing, today it is part of the Salling Group and has 18 retail stores throughout the country. The first site, which recently underwent a total renovation, now houses the largest fresh fruit and vegetable section in Denmark.
Meanwhile Føtex, a name derived from the combination of the Danish words fødevarer (foodstuffs) and textil (textiles), is the oldest supermarket chain in Denmark.
Founded in 1960, Føtex represents the original root of the Salling Group. Today it has 100 retail outlets throughout Denmark's five regions, with a special focus on high quality and high-end foods.
Elsewhere, In&Out's first-year competition 'Fill up with vitamins' proceeds at a brisk pace.
More than 15,000 consumers have shared their opinions by completing and returning questionnaires at the checkout on promotional days.
By doing so ahead of the 31 August closing date, they have the chance to win one of 180 smoothie blenders, to make tasty and healthy fruit and vegetable drinks.