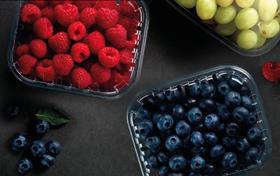 Italian company Infia has stepped up the amount of used packaging it includes in the production of new, fully recyclable fruit trays.
Back in 2018, the group committed to using only 100 per cent recycled PET plastic in all of its products. Now, it has unveiled a new policy roadmap – which it refers to as Tray2Tray – that it says will "close the loop" when it comes to the use of plastic trays.
"Infia believes there is a big opportunity to recover much more post-consumer fruit packaging, so that it can be recycled and transformed into new and fully recyclable products," the company said in a statement.
"We've put together a comprehensive roadmap that will help us achieve substantial targets, and have already found success with packaging made from a blend of rPET taken from bottles and trays."
According to Infia, customers and consumers alike are placing new demands on packaging providers. And with new taxes on virgin plastics, the required amount of recycled plastic flakes derived from bottles will be harder to come by.
"That's why we are increasing our use of tray flake as our main goal," it added. "Developing a market for recycled PET tray flake isn't something we can achieve alone – so we're working with our entire value chain to generate more demand."
At the same time, it said, the company is strengthening partnerships with recycling companies, suppliers, and customers to ensure a constant supply of post-consumer recycled plastic.
"That means working with the recycling industry to 'pull' more plastic PET trays back to us, while at the same time collaborating with our customers to 'push' demand for trays made from rPET tray flake."