Israeli companies continue to lead the way in agricultural innovation, addressing issues like labour shortages and waste with brand-new technologies
Israel has gained a reputation in recent years for being a "start-up nation" in the areas of medical devices and agricultural innovation, including multiple developments in plant monitoring, precision agriculture, robotics and field disease detection. Here is a short selection of Israeli companies looking to tackle the burning issues facing agriculture today.
MetoMotion
Based in Yokneam in Northern Israel, MetoMotion has developed a Greenhouse Robotic Worker (GRoW), using a technology platform for harvesting greenhouse tomatoes. This fully autonomous system is able to identify ripe fruit, pick and then pack directly into a box.
GRoW solves one of the most acute problems facing growers today, the labour crisis. The labour crisis limits growth and can cause direct financial losses due to harvesting delays. MetoMotion brings a number of core innovations to its GRoW system, including an AI 3D stereo vision system for identifying ripe fruit/vegetables and an end-effector for damage-free harvesting and sophisticated analytical software. The project has received funding from the EU's Horizon 2020 research and innovation programme. GRoW claims to generate an 80 per cent saving in work hours and other significant cost savings and can be smoothly integrated into existing greenhouse practices.
Future GRoW developments will include pruning, de-leafing and scouting and will be expanded for use on other greenhouse crops such as cucumbers, eggplants, peppers and cannabis.
CEO Adi Nir comments: "The convergence of AI, 3D vision and advanced robotics is changing both the economics and the operation of greenhouses. MetoMotion is excited to play a role in furthering an innovation that enables this change."
TIPA
Established in Israel in 2010, compostable packaging manufacturer TIPA believes compostable alternatives are set to dominate food packaging in the near future.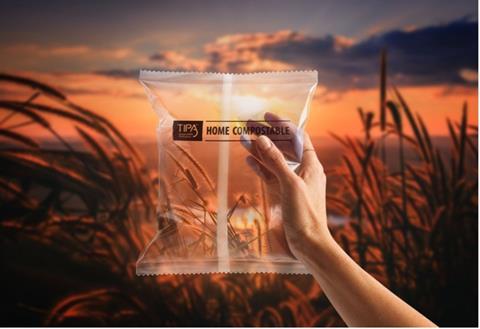 TIPA's vision for flexible packaging is to have the same end-of-life as organic matter, while maintaining the qualities of conventional plastics that consumers and brands have come to rely on, such as durability, transparency, sealability, printability and shelf-life.
Recently, TIPA launched its first home-compostable certified transparent laminate. The innovation comes amid growing consumer and brand demand for eco-friendly packaging. These food packaging applications can be disposed of in home-composting bins and will include stand-up pouches, zipper pouches, open pouches, side-gusseted pouches, pillow bags and bar wrappers. The laminate is TUV-OK-Home-Compost certified, meaning it can be disposed of in home-composting bins where it will break down, leaving no toxic pollutants behind.
Dr Eli Lancry, VP Technology at TIPA, comments: "TIPA is constantly innovating and developing new solutions built with the environment and our customers in mind, and this new laminate is one of the most exciting developments I've worked on. We have created a packaging solution that really does work for both people and planet."
FruitSpec
Established in Israel in 2016 by local citrus growers, the aim of FruitSpec is to enable fruit producers and packers to synchronise yields with market demand, to increase revenues and to minimise food loss.
Fresh fruit prices are set based on the available volumes, on fruit size and on fruit quality. The challenge of the global fruit supply chain is the lack of accurate data, very often resulting in a mismatch between the farmer's orchard inventory and the buyers' demands.
FruitSpec technology provides growers and marketers with accurate data and decision-making tools for each link in the production value chain: growing, picking, packing, and marketing. Mounting multispectral sensors on farm vehicles to scan large areas of production, data is uploaded to the cloud and AI algorithmic analysis counts the fruits and measures their size.
FruitSpec serves customers in the US, Chile, South Africa, Spain and Argentina and has recently added clients in Australia and Morocco. Crops presently covered are citrus, stonefruit, apples, grapes and pomegranates.
DryGair
DryGair manufactures dehumidification solutions for commercial horticulture with technology developed at the Volcani Agricultural Research Center. The solutions are designed to provide the complete solution to humidity in greenhouses and growing rooms, optimising growing conditions and making significant energy savings of around 50 per cent compared with traditional humidity control solutions.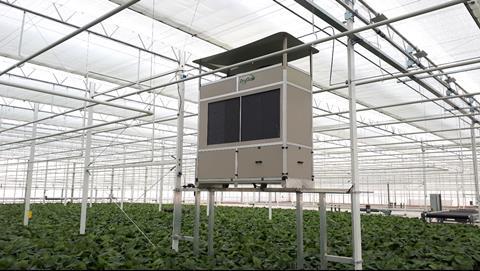 It may be counterintuitive to think that adding machinery can reduce energy consumption, but that's what DryGair does. When growers open the greenhouse or ventilate to get rid of moisture, significant amounts of energy are wasted. Ventilation releases heat, causing climatic fluctuations and the need to re-heat the space.With DryGair, there is no need for ventilation, as humidity is controlled from inside the greenhouse. Due to DryGair's ability to control the humidity without external air sources, windows and vents can stay closed, and by spreading thermal screens for insulation, heating costs can be greatly reduced.
"Unfortunately we cannot forecast positive changes regarding the energy crisis," says Ziv Shaked, VP DryGair. "So the importance of using DryGair will only grow, perhaps becoming crucial for growers to stay afloat."
DryGair operates worldwide in various growing spaces, crops and climates. The largest market is Europe where DryGair is widely used in greenhouses for almost all crops. The newest unit, the DG-X, designed for indoor growing rooms, is popular amongst cannabis growers in North America. In Japan, DryGair has partnered with Netafim Japan to bring the technology to Japanese greenhouses for the production of cherry tomatoes.