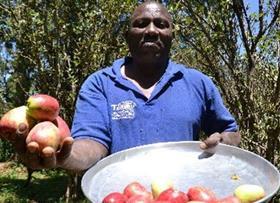 Kenyan apple exports to Europe are set to increase following a notable increase in demand for the fruit as well as a significant fall in European production.
The introduction of better varieties and increasing awareness of the potential health benefits of apples in European countries could also see exports from the east African country more than triple this year alone, exporters say.
Kenya exported around 300 tonnes of apples to the EU last year, according to Stephen Mbithi, chief executive of the Fresh Produce Exporters Association of Kenya (Fpeak).
"We are likely to see the exports triple this year as three improved apple varieties are being exported,' Mbithi commented ahead of the new season, which typically lasts from June to September.
Among the different apple types produced in Kenya, which include Braeburn and Royal Gala, the Wambugu variety (named after the grower who pioneered its production in the country) is currently said to be the most popular in terms of its export sales to Europe. Other new varieties are understood to be in the pipeline.
'We are continuously developing new hybrid varieties of apples in order to meet consumer requirements and keep pace with stiff competition in the commodity,' says Lusike Wasilwa, assistant director of the Kenya Agricultural Research Institute. 'We are working on three new varieties that will be available in the market by next year.'
Keeping up with demand
Johnson Makau grows apples on a 2ha farm in central Kenya, an enterprise which he says is currently turning a good profit, buoyed by export sales mostly to the Netherlands, UK and Germany.
'The demand for apples is so high that it is often difficult to meet the requirements,' he reports. 'As a farmer, I have to produce a lot. I make about Ks120,000 (€1,080) a year from exporting apples.'
The major exporter of apples from Kenya is Del Monte, although there is an increasing number of individual farmers such as Makau who are getting into the business independently.
According to Fpeak, there are now over 1,200 individual apple exporters in Kenya, most of them also farmers.