The retailer is rolling out the launch of its 'anti-waste bag' in Spain following the initiative's success in its Canary Islands stores
Lidl has announced the launch of its 'anti-waste bag' in Spain, a €3 bag of fruits and vegetables that do not meet certain aesthetic criteria but remain suitable for consumption.
The initiative forms part of its efforts to cut food waste in its stores by 30 per cent by 2025 and by 50 per cent by 2030.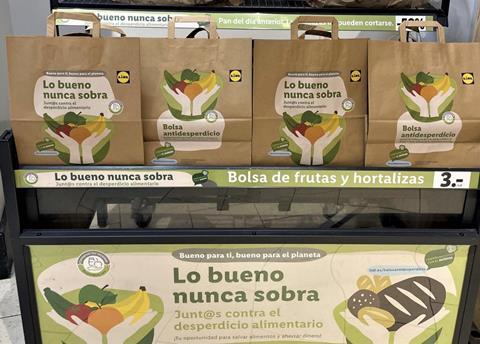 The measure has reportedly been successful in Lidl's 30-plus stores in the Canary Islands over the past weeks, with more than 20 tonnes of such fruit and vegetables sold. Now, the group hopes for similar results at its 650-plus stores in Spain.
Michaela Reischl, director of CSR of Lidl Spain, commented: "Reducing food waste is one of our priorities in terms of sustainability. We are firmly committed to prevention, planning and managing our assortment efficiently to minimise the stock of surplus products.
"The launch of the anti-waste bag is one more measure that aims to encourage the purchase of fruits and vegetables that are still suitable for consumption. After the success of the Canary Islands, I am convinced that our clients in the rest of the country will also welcome this initiative very positively."
Another initiative being trialled in the company's Canary Islands stores is the application of a 50 per cent discount on the last day before expiration for some items including salads.